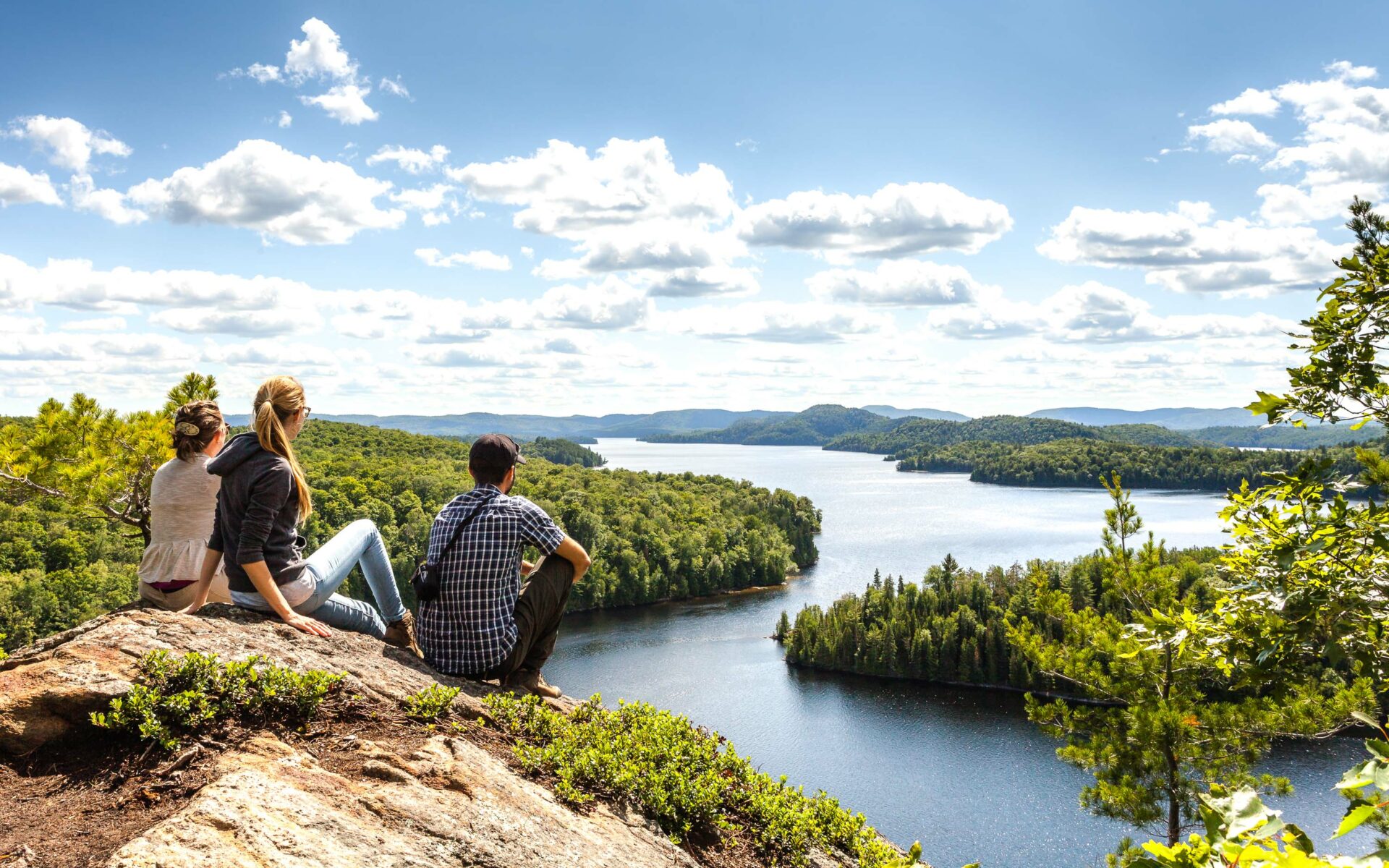 On the reservoir
The hiking trails on the insular sector of Poisson Blanc are accessible directly from your boat. Stretch your legs while you enjoy an amazing view with a different perspective of the reservoir!
Free access
Access not allowed after nightfall
Trails closed from mid-October to mid-May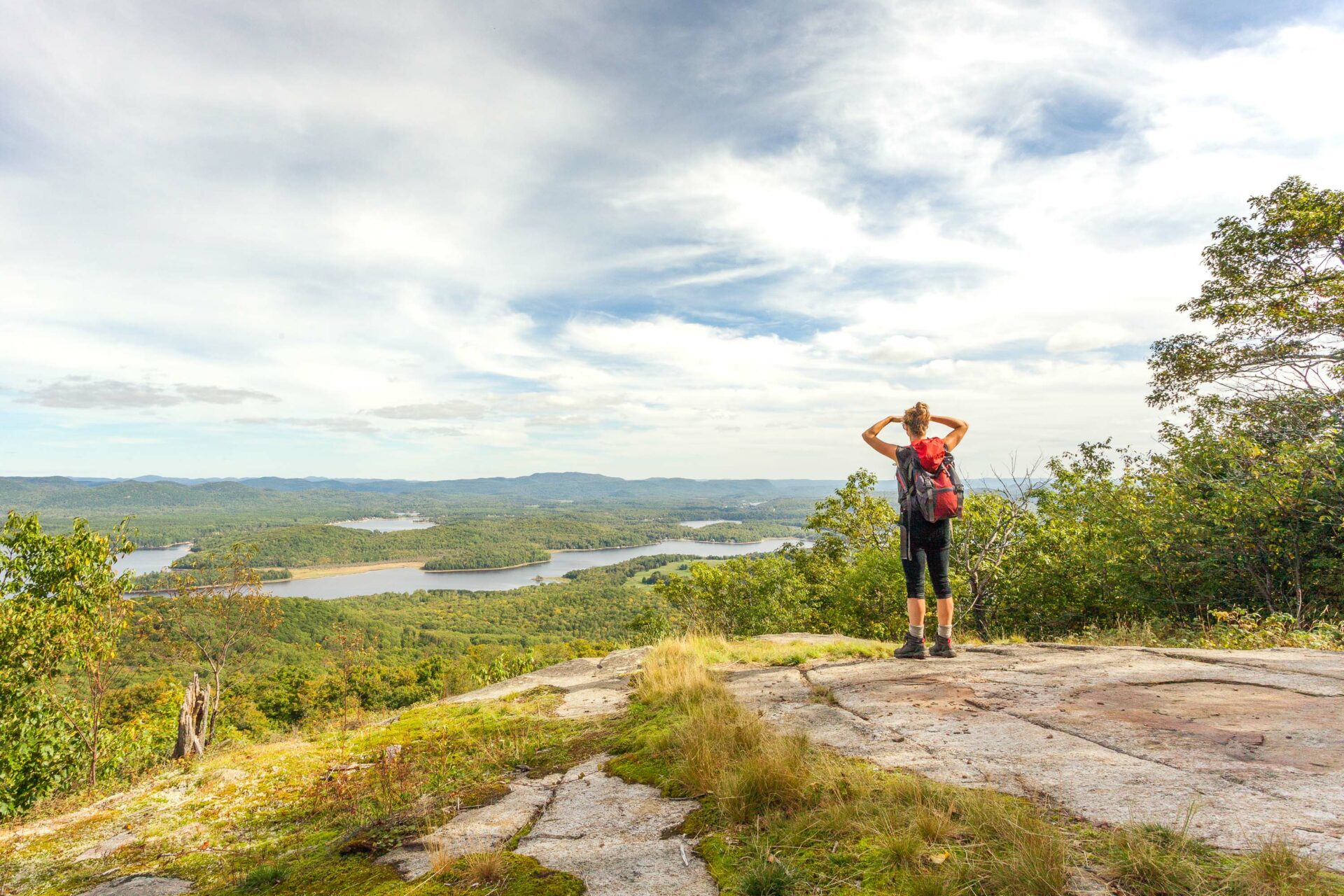 On the mountain
Poisson Blanc Regional Park's hiking trails are located on the Montagne du Fort, in the Rapide-du-Fort sector. Drop by Le Bastion Entrance Office to get information on the trail conditions and to get a map.
Free access
5 km by vehicle from Le Bastion Entrance Office
Entry prohibited after nightfall
Accueil Le Bastion

2A

Site des Pères

2 km +/- 40 minutes

2B

Le Franc Sud

1.6 km +/- 30 minutes

2C

La Pointe des Pères

2 km +/- 40 minutes

3A

Site des Mauves

1.3 km +/- 30 minutes

3B

La pointe des Mauves

1.5 km +/- 30 minutes

6

La Sainte Paix

1.6 km +/- 30 minutes

12A

Le Cap du soleil couchant

2.5 km +/- 45 minutes

12C

La Pointe aux Harles

2.5 km +/- 45 minutes

12D

La Pointe au Cerisier

2.5 km +/- 45 minutes

23A

L'aurore

3 km +/- 1 hour

13

Le Soleil du Midi

3.5 km +/- 1:15

20

Les pieds dans le sable

1.6 km +/- 30 minutes

23B

La Pointe à Bill

3.7 km +/- 1:15

24

La Pointe du Couchant

3.3 km +/- 1:10

25

La Retraite

3 km +/- 1 heure

26

La Lagune

4 km +/- 1:20

27B

La Cigale

5 km 1h30

27 A

La Canopé

4 km +/- 1:20

29

L'île à la Loutre

4 km +/- 1h20

31

Le Paradis

4,5 km +/- 1h30

34

Katimavik

4 km +/- 1:20

36

L'Entrée du Chenal

4.9 km +/- 1:40

39

Pointe aux bleuets

5.4 km +/- 1:45

41

La pointe de Granit

6 km +/- 2 hours

44A

La pointe pleureuse

9 km +/- 3 heures

45

La pointe aux Dorés

9 km +/- 3 hours

47A

La pointe du Brochet

9.1 km +/- 3 hours

47B

La Terrasse

9.1 km +/- 3 hours

47C

La pointe Ensoleillée

10 km +/- 3:20

52A

La Plage Cachée

11 km +/- 3:40

52C

Le cap siffleur

11 km +/- 3:40

55A

Le Lagon Bleu

12.5 km +/- 4:10

55C

La Sand Bar

13 km +/- 4:20

56

Le Rocher Fendu

13.5 km +/- 4:30

59

La Pointe aux Bouleaux

15 km +/- 5 hours

60

La Plage d'or

14 km +/- 4:30

63A

Cap à la Tortue

15 km +/- 5 hours

63B

Site de la Paroi Éléphant

15.2 km +/- 5 hours

63C

La Péninsule

15.5 km +/- 5:10

64

L'Île Mira

15 km +/- 5 hours

66A

La Pointe au Pin

13 km +/- 4:20

66D

Le cap à l'aigle

13.5 km +/- 4:30

68

L'Île aux voyageurs

14 km +/- 4:30

70A

La petite Plage

16.4 km +/- 5:30

70B

La grande Plage

16.4 km +/- 5:30

70C

La Pointe aux Chênes

16.2 km +/- 5:30

70G

La Citadelle

14 km +/- 4:30

70K

La Pointe de l'Épervier

16.2 km +/- 5:20

Le camp de base

6.7 km 10 minutes by car

Le site de la plage

6.5 km 10 minutes by car

8

Halte de pique-nique 8

2 km +/- 40 minutes

9

Halte de pique-nique 9

2 km +/- 40 minutes

10

Halte de pique-nique 10

2.2 km +/- 45 minutes

12B

Halte de pique-nique 12B

2.5 km +/- 45 minutes

21

Halte de pique-nique 21

1.5 km +/- 30 minutes

22

Halte de pique-nique 22

2 km +/- 40 minutes

30B

Halte de pique-nique 30B

3.8 km +/- 1:20

35

Halte de pique-nique 35

4.5 km +/- 1:30

38

Halte de pique-nique 38

5 km +/- 1:40

49

Halte de pique-nique 49

11 km +/- 3:40

54C

Halte de pique-nique 54C

12 km +/- 4 hours

55D

Halte de pique-nique 55D

13 km +/- 4:20

55E

Halte de pique-nique 55E

13.5 km +/- 4:40

57A

Halte de pique-nique 57A

14 km +/- 5 hours

57B

Halte de pique-nique 57B

14 km +/- 5 hours

58A

Halte de pique-nique 58A

14 km +/- 5 hours

63D

Halte de pique-nique 63D

15.5 km +/- 5:20

micro-refuge le Pic mineur

300 mètres 5 minutes à pied

66C

Halte de pique-nique 66C

14 km +/- 5 hours

1R

Sentier du Chenal

Intermédiaire

2R

Le Cap du sud

Intermédiaire

3R

Sentier de l'île en U

Intermédiaire

4R

Sentier de la Paroi Éléphant

Débutant

1M

Sentier Rapide-du-Fort

Intermédiaire

2M

Sentier des Merisiers

Débutant

3M

Sentier Katimavik

Intermédiaire

4M

Sentier du Sommet

Intermédiaire

5M

Sentier Desjardins

Intermédiaire

63D

Paroi Éléphant

Débutant à avancé
Reserve
Distance
Estimated Time
Category
Area
Beach
Access
Niveau
Altitude
Longueur
Dénivelé