Campsites
by the mountain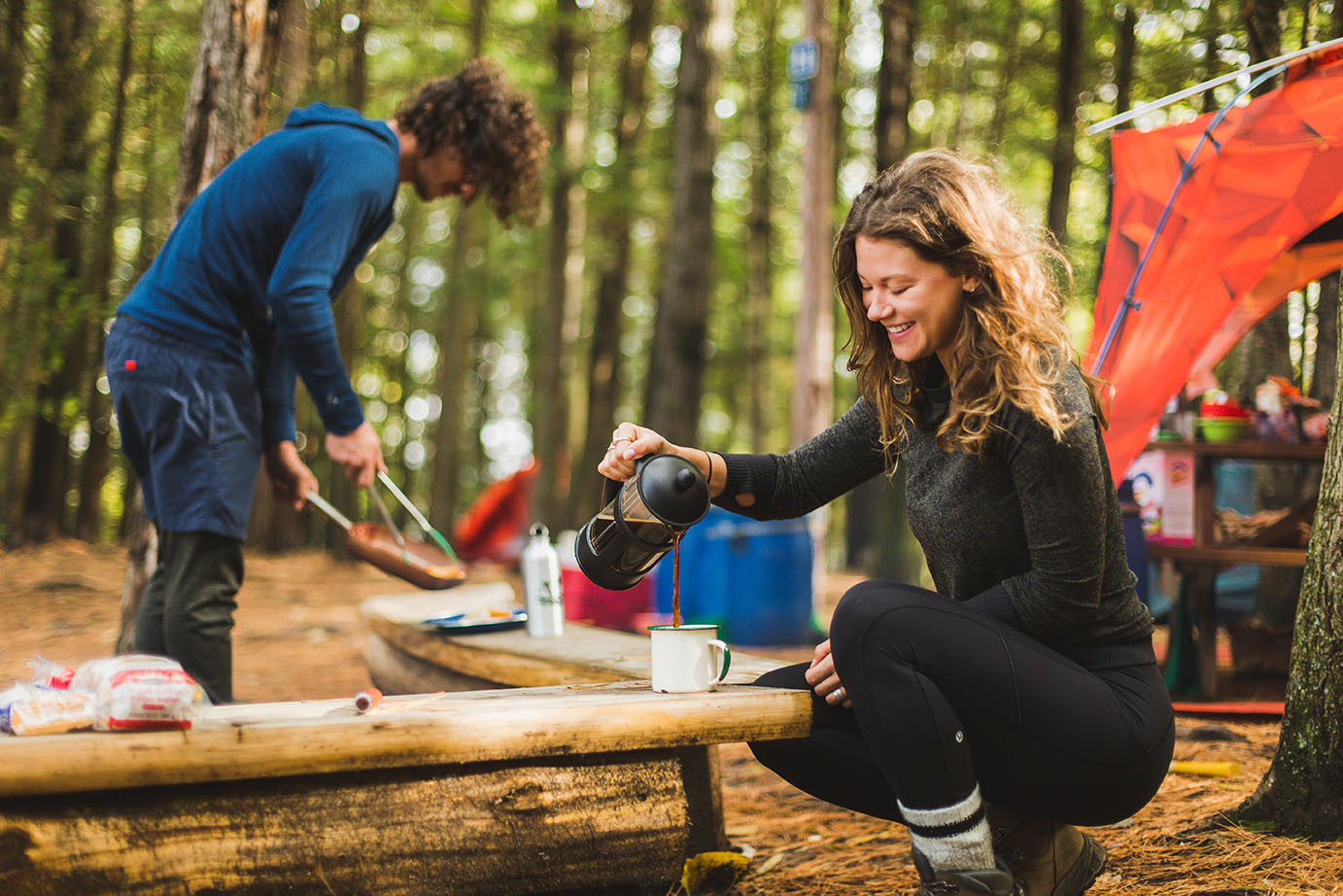 Accessible by car
The Rapide-du-Fort campsites are located at the foot of Diable Mountain and are accessible by car, at only 5 km from the Bastion Entrance Office. These rustic and intimate sites are at a walking distance from the Park's public beach, and the mountain's hiking trails' starting point.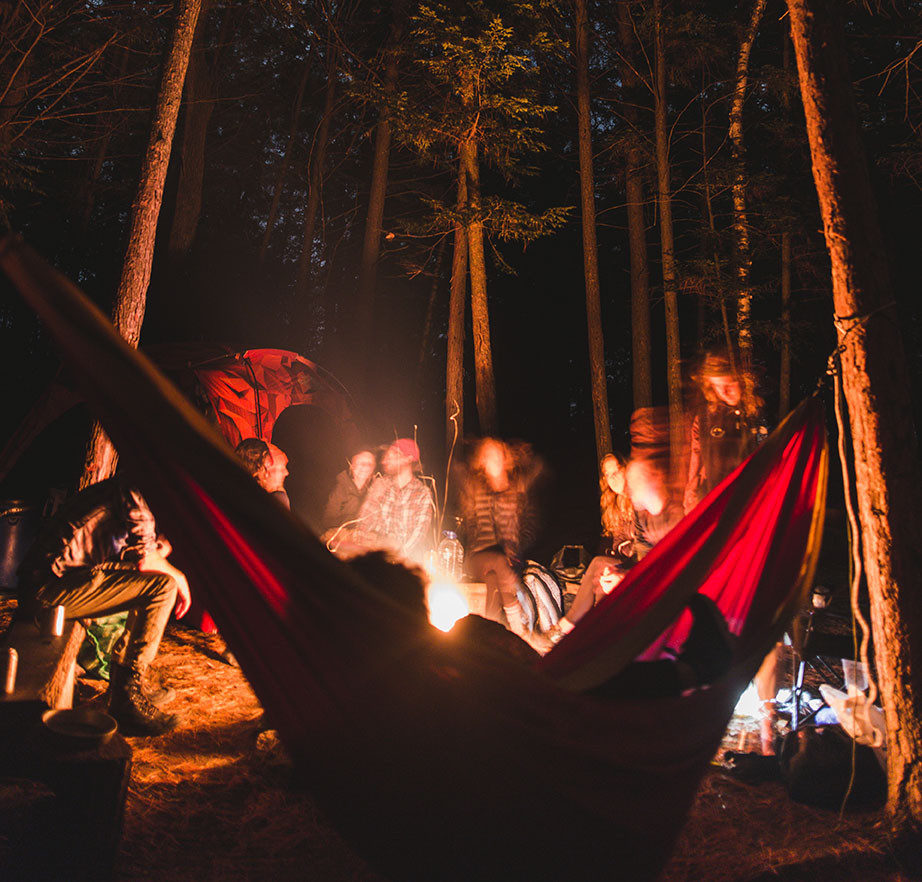 Located on the Réservoir des Sables shore, they are also accessible by boat from the Poisson Blanc Lake. Please note that these campsites do not have electricity or running water.
Each rental
Includes:
Exclusive access to your site for the duration of your stay
The delivery of one bag of wood per night
The parking at Le Bastion Entrance Office
The park's map
Access to Le Bastion's outdoor showers
Does not include:
Taxes
Extra bags of wood.
2021 Rates
Category
(capacity)
Low season
May 11th to June 14th /
Sept. 6th to Oct. 18th
High season
June 15th to Sept. 5th
2 tents
65$
80$
3+ tents
80$
100$
42A

La Chanterelle

6 km approximately 2h of canoeing

42D

La Paroi Écho

7 km approximately 2h30 of canoeing débutant à avancé

Micro-refuge le grand Pic

5 minutes à pied

42E

L'Équateur

7 km +/- 2 hours

Accueil Le Bastion

45A

Le Parasol

9 km 3h

2A

Site des Pères

2 km +/- 40 minutes

2B

Le Franc Sud

1.6 km +/- 30 minutes

3A

Site des Mauves

1.3 km +/- 30 minutes

2C

La Pointe des Pères

2 km +/- 40 minutes

3B

La pointe des Mauves

1.5 km +/- 30 minutes

6

La Sainte Paix

1.6 km +/- 30 minutes

13

Le Soleil du Midi

3.5 km +/- 1:15

12A

Le Cap du soleil couchant

2.5 km +/- 45 minutes

12C

La Pointe aux Harles

2.5 km +/- 45 minutes

23A

L'aurore

3 km +/- 1 hour

12D

La Pointe au Cerisier

2.5 km +/- 45 minutes

24

La Pointe du Couchant

3.3 km +/- 1:10

20

Les pieds dans le sable

1.6 km +/- 30 minutes

23B

La Pointe à Bill

3.7 km +/- 1:15

27 A

La Canopé

4 km +/- 1h20

25

La Retraite

3 km +/- 1 heure

26

La Lagune

4 km +/- 1:20

27B

La Cigale

5 km 1h30

36

L'Entrée du Chenal

4.9 km +/- 1:40

29

L'île à la Loutre

4 km +/- 1h20

31

Le Paradis

4,5 km +/- 1h30

34

Katimavik

4 km +/- 1:20

44A

L'Enclume

9 km 3 hours

39

Pointe aux bleuets

5.4 km +/- 1:45

41

La pointe de Granit

6 km +/- 2 hours

44B

La pointe pleureuse

9 km +/- 3 heures

45

La pointe aux Dorés

9 km +/- 3 hours

47A

La pointe du Brochet

9.1 km +/- 3 hours

47B

La Terrasse

9.1 km +/- 3 hours

47C

La pointe Ensoleillée

10 km +/- 3:20

52A

La Plage Cachée

11 km +/- 3:40

52C

Le cap siffleur

11 km +/- 3:40

55A

Le Lagon Bleu

12.5 km +/- 4:10

55C

Le site de la Sand Bar

13 km +/- 4:20

56

Le Rocher Fendu

13.5 km +/- 4:30

59

La Pointe aux Bouleaux

15 km +/- 5 hours

60

La Plage d'or

14 km +/- 4:30

63A

Cap à la Tortue

15 km +/- 5 hours

63B

Site de la Paroi Éléphant

15.2 km +/- 5 hours

63C

La Péninsule

15.5 km +/- 5:10

64

L'Île Mira

15 km +/- 5 hours

66A

La Pointe au Pin

13 km +/- 4:20

66D

Le cap à l'aigle

13.5 km +/- 4:30

68

L'Île aux voyageurs

14 km +/- 4:30

70A

La petite Plage

16.4 km +/- 5:30

70B

La grande Plage

16.4 km +/- 5:30

70C

La Pointe aux Chênes

16.2 km +/- 5:30

70G

La Citadelle

14 km +/- 4:30

70K

La Pointe de l'Épervier

16.2 km +/- 5:20

Le camp de base

6.7 km 10 minutes by car

Le site de la plage

6.5 km 10 minutes by car

8

Halte de pique-nique 8

2 km +/- 40 minutes

9

Halte de pique-nique 9

2 km +/- 40 minutes

10

Halte de pique-nique 10

2.2 km +/- 45 minutes

12B

Halte de pique-nique 12B

2.5 km +/- 45 minutes

21

Halte de pique-nique 21

1.5 km +/- 30 minutes

22

Halte de pique-nique 22

2 km +/- 40 minutes

30B

Halte de pique-nique 30B

3.8 km +/- 1:20

35

Halte de pique-nique 35

4.5 km +/- 1:30

38

Halte de pique-nique 38

5 km +/- 1:40

49

Halte de pique-nique 49

11 km +/- 3:40

54C

Halte de pique-nique 54C

12 km +/- 4 hours

55D

Halte de pique-nique 55D

13 km +/- 4:20

55E

Halte de pique-nique 55E

13.5 km +/- 4:40

57A

Halte de pique-nique 57A

14 km +/- 5 hours

57B

Halte de pique-nique 57B

14 km +/- 5 hours

58A

Halte de pique-nique 58A

14 km +/- 5 hours

63D

Halte de pique-nique 63D

15.5 km +/- 5:20

micro-refuge le Pic mineur

300 mètres 5 minutes à pied

66C

Halte de pique-nique 66C

14 km +/- 5 hours

1R

Sentier du Chenal

Intermédiaire

2R

Le Cap du sud

Intermédiaire

3R

Sentier de l'île en U

Intermédiaire

4R

Sentier de la Paroi Éléphant

Débutant

1M

Sentier Rapide-du-Fort

Intermédiaire

2M

Sentier des Merisiers

Débutant

3M

Sentier Katimavik

Intermédiaire

4M

Sentier du Sommet

Intermédiaire

5M

Sentier Desjardins

Intermédiaire

63D

Paroi Éléphant

Débutant à avancé
Reserve
Distance
Estimated Time
Category
Area
Beach
Access
Level
Altitude
Length
Elevation