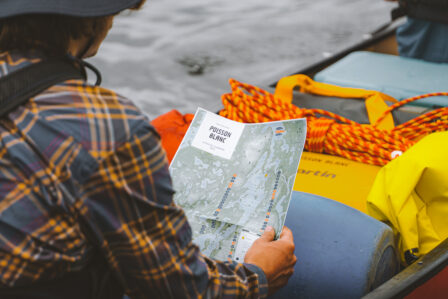 Exploration Starts Here
Set off on an adventure for a few days, or simply explore the reservoir for the day by stopping by our rest areas for a picnic, a swim, a bit of sunbathing at the beach, or a hike. The Poisson Blanc Regional Park provides a rental service for a lovely range of non-motorized watercraft that are bound to bring out the explorer in you.
Please note that it is not possible to rent a watercraft and put it on your car to launch at another access point than the Park.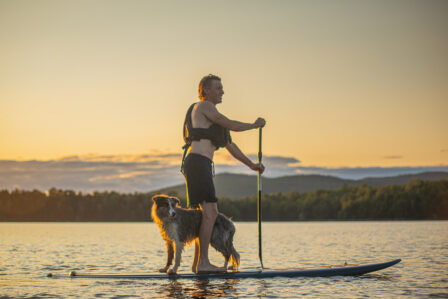 Watercraft Rentals and Length of Stay
Our watercraft are booked per day and not per overnight stay. For example, if you reserve a camping site for 2 nights, you'll need a canoe for 3 days. It's important to note that you can collect your watercraft rental as soon as the reception desk opens in the morning, even if you don't officially have access to your accommodations until 3pm. Several rest areas on the islands and hiking trails on the reservoir allow you to enjoy the Whitefish while waiting for your site to become available. On the last day of your stay, we ask that you return your watercraft by 5pm.
Note that it is not necessary to book your watercraft at the same time as your lodging. For canoes, only the 4 benches are available in smaller quantities. To avoid modification and cancellation fees, proceed with the rental of your watercrafts when you are one week away from your stay.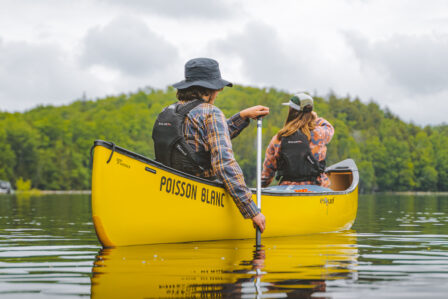 Here, Canoe is King
A canoe is the obvious choice. It provides good loading capacity as well as good stability on the water. Our fleet consists of "prospector" type canoes made of fiberglass and T-formex in lengths varying between 16 feet and 20 feet, which can accommodate between 2 and 4 people. Ideal for families, climbers, small groups of friends, and campers who bring along their dogs, the canoe has a loading capacity going from 275 kg (600 lbs) to 360 kg (800 lbs) depending on the size of the canoe. All watercraft rentals include mandatory security equipment: life jackets, paddles, and a safety kit. But be careful, a canoe isn't manoeuvered as intuitively as you may think. Need a refresher before you go? The Path of the paddle is the ultimate classic.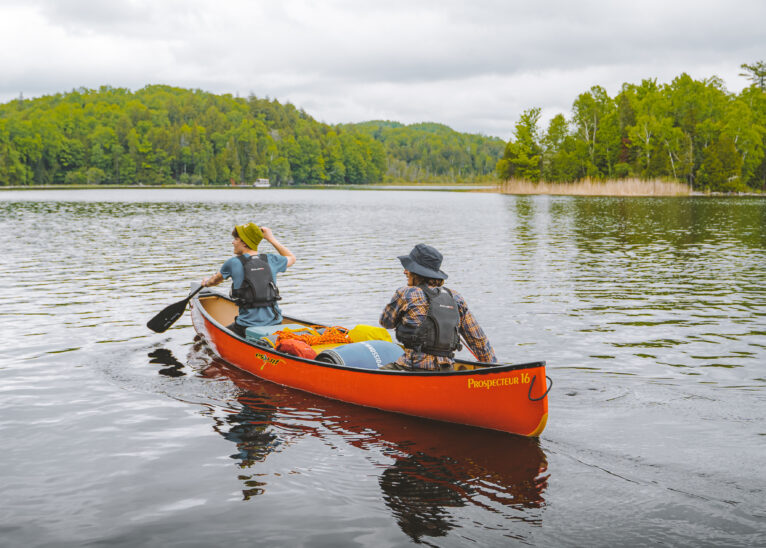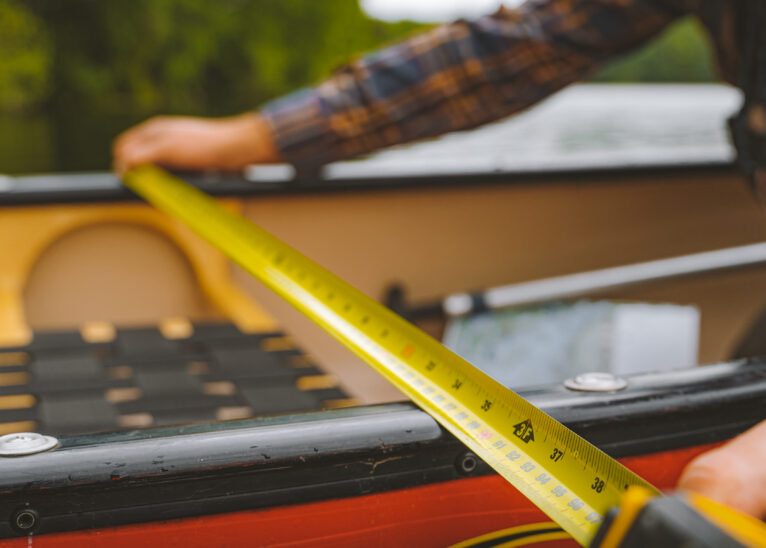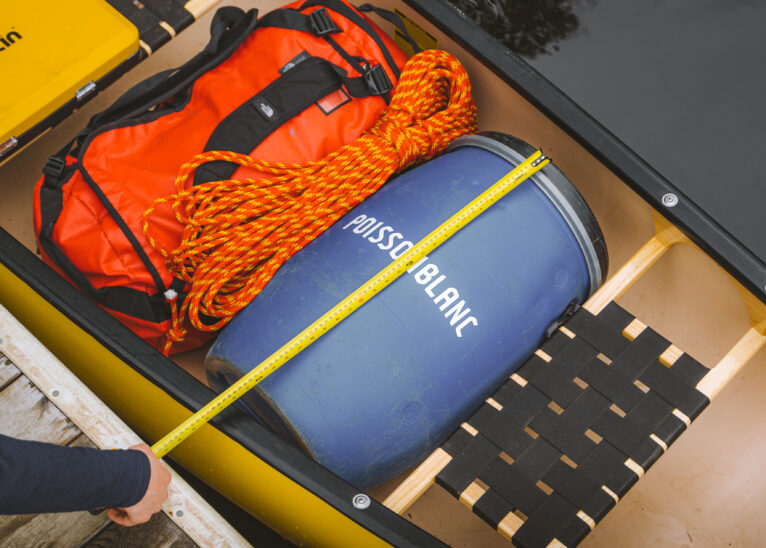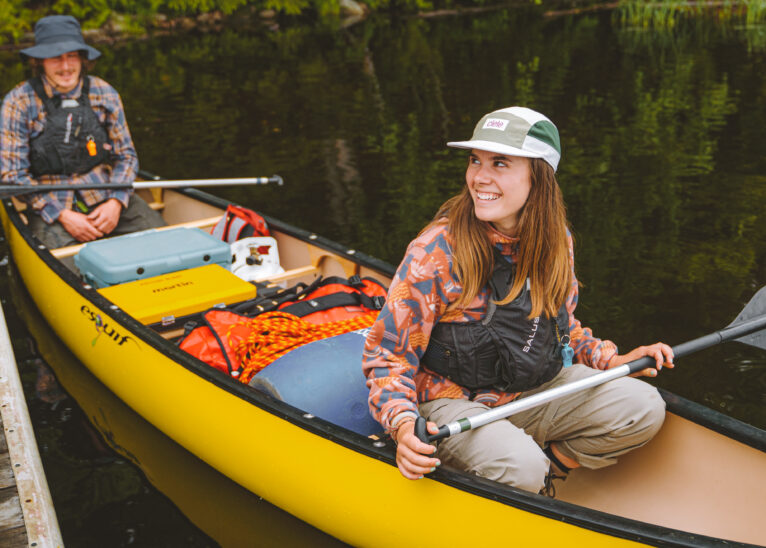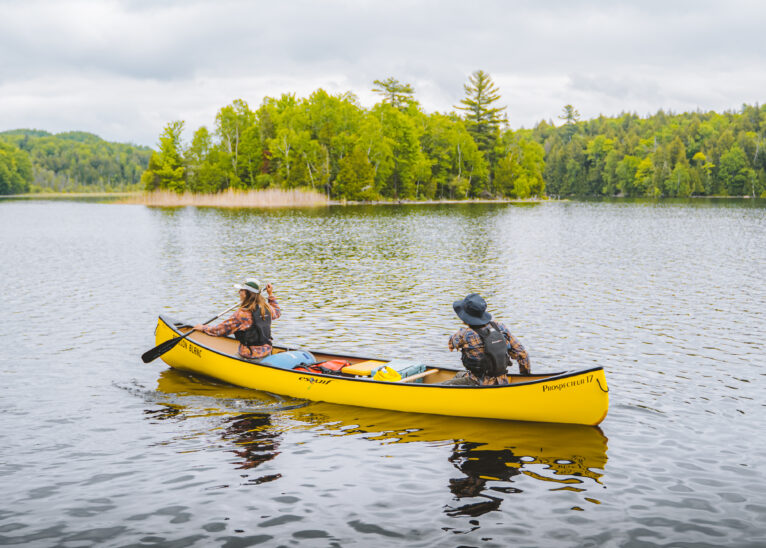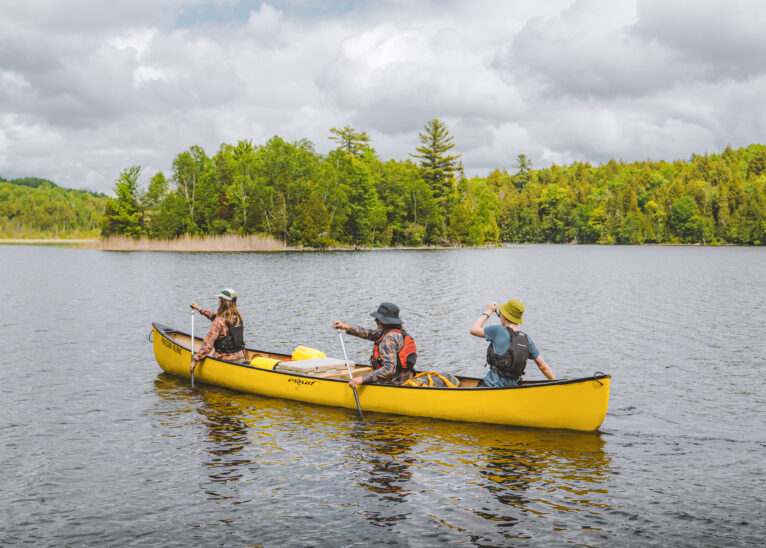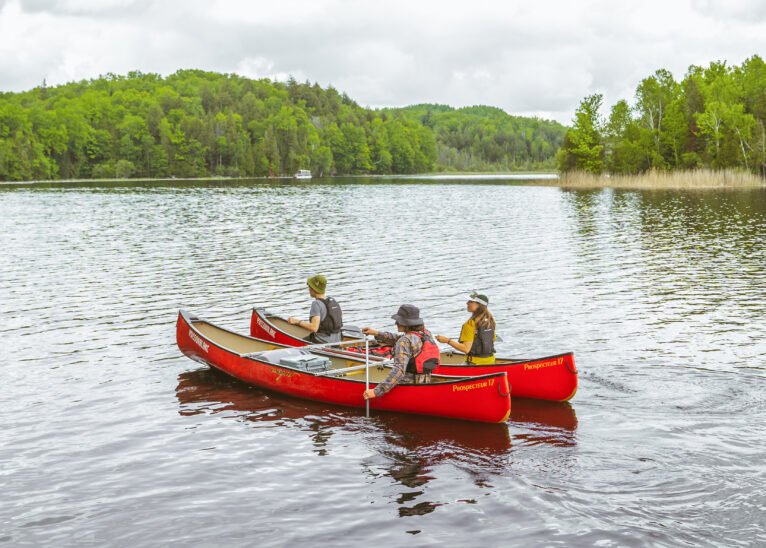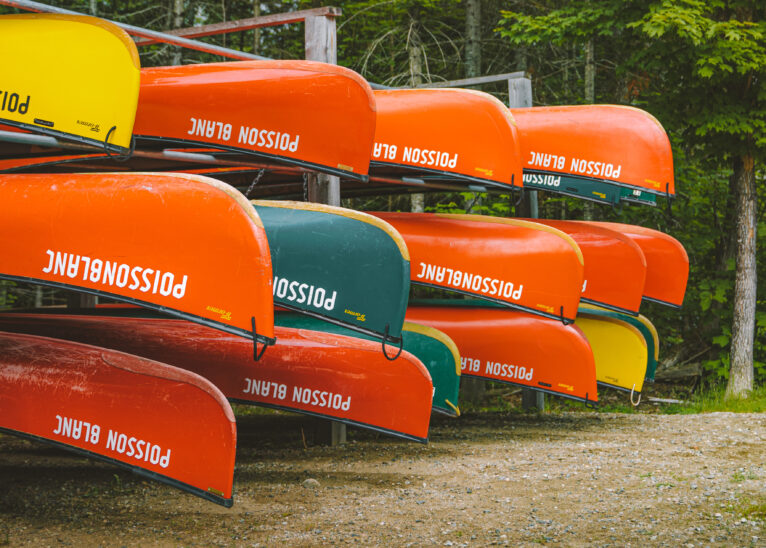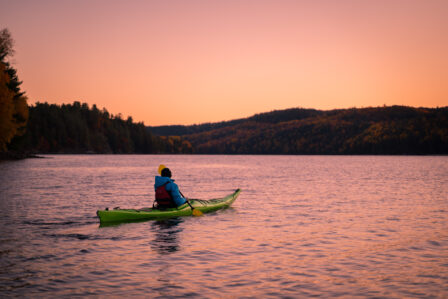 The Sea Kayak, For Dashing Off Like a Torpedo
You feel like trying something other than a canoe, no problem, we have a stock of Epsilon solo sea kayaks by Boréal Design (P100 green, P200 red, P300 yellow). The Sea Kayak features good loading capacity, but the luggage compartment openings aren't very wide.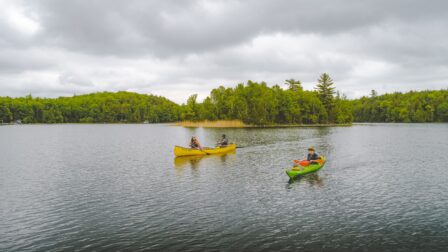 For a better sealing
Forget hard coolers; you need to pack your food is soft coolers. Even if the kayak luggage compartments have rubber lids, they aren't completely watertight. Everything that goes into the compartments that shouldn't get wet should be stored in a dry bag. Simple garbage bags can also do the trick to keep your clothes and sleeping bag dry. On top of the basic safety equipment, the sea kayak also includes a skirt and a bilge pump.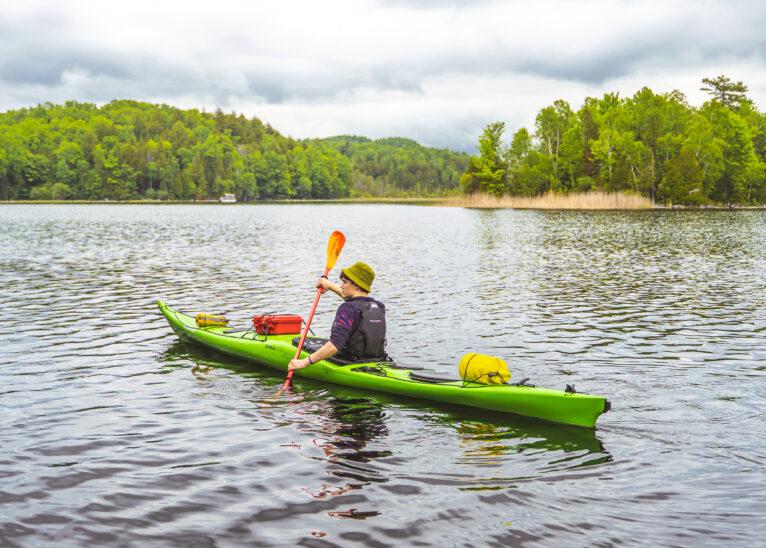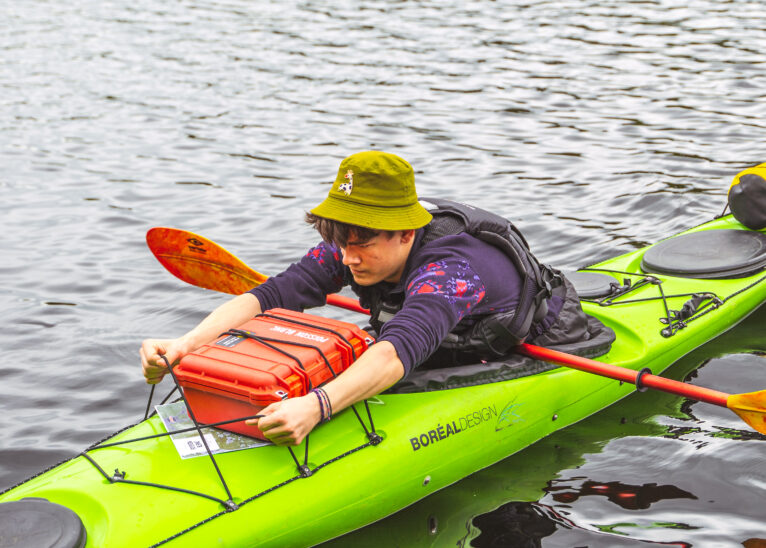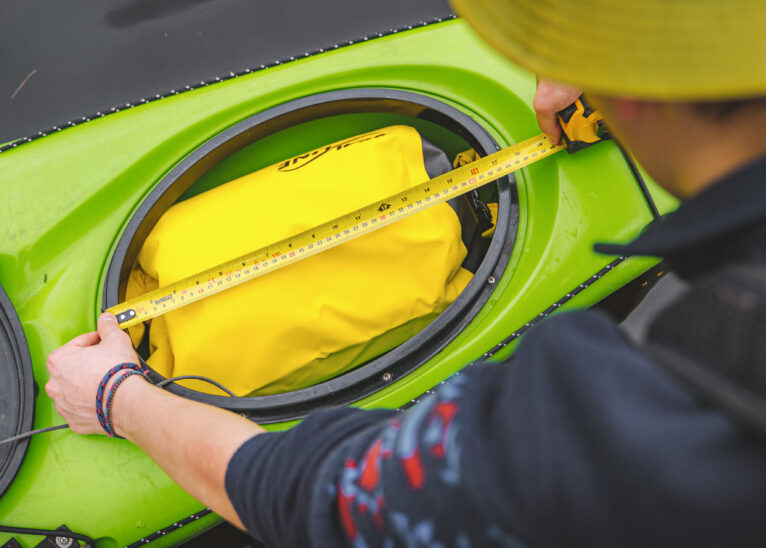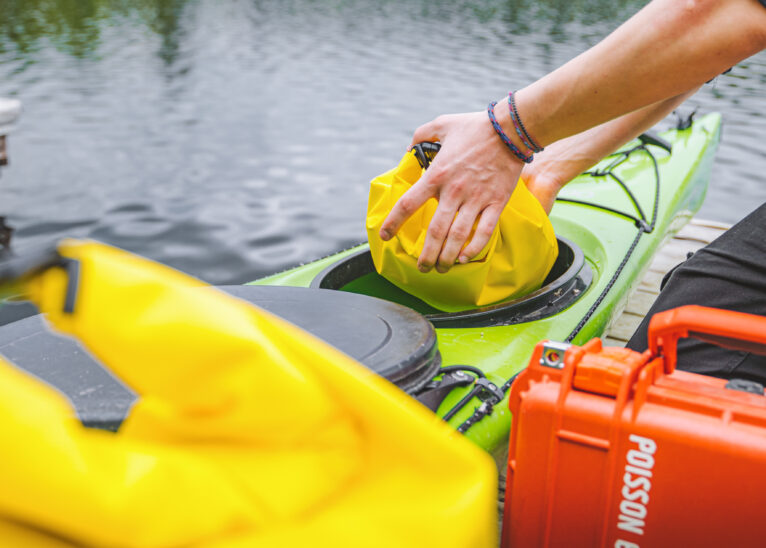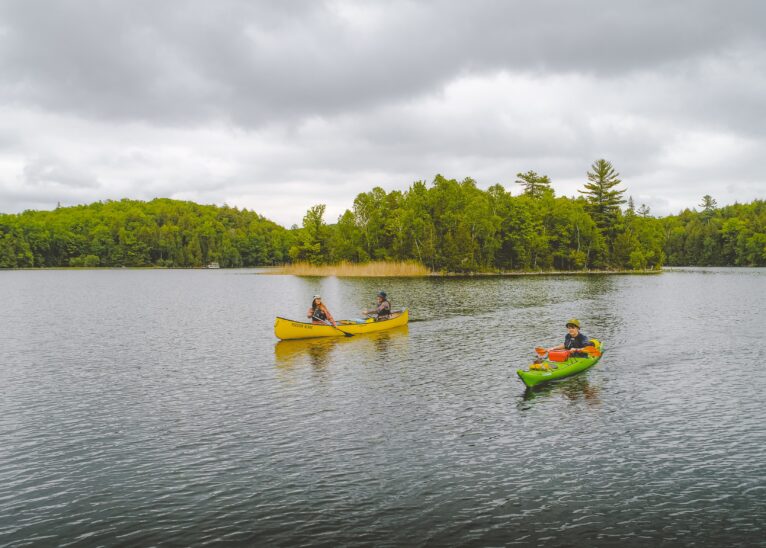 Paddleboard / SUP Rentals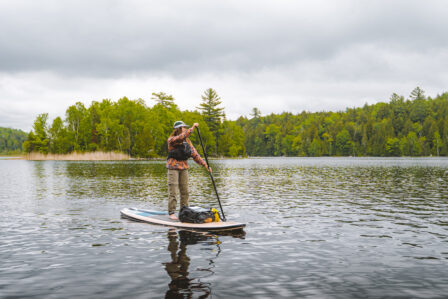 Your Fun Buddy
The paddleboard is the perfect watercraft for a day trip on the reservoir or for campers who don't have far to go to get to their island! It's also a choice watercraft for a solo deep water climbing expedition at The paroi Écho. Our fleet consists of Thuya, Awen, Borea, Hana, Akoya and Kazuzu model Taiga Board paddleboards. The Kazuzu models have a load capacity of nearly 300 lbs. If you wish to go on a SUP expedition with your luggage, this is the models you want, but you'll still need to pack light.
Please note that it is not permitted to pull a SUP behind a watercraft or to deflate our rental paddle to bring it to your island.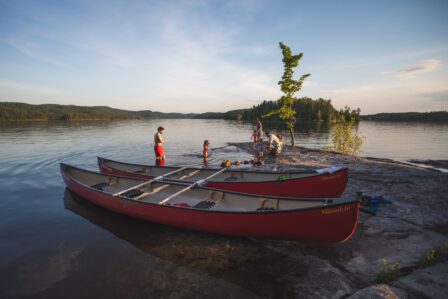 A Family Affair
2 adults, 2 children, and 1 dog, or 4 adults who have never handled a canoe, what do you do with that? Well, let me introduce the Catacanoe. Yes, yes, you read that right. The Catacanoe is a temporary aluminium linking device that allows you to connect two parallel canoes and turn them into a single watercraft. This solution offers remarkable stability and allows you to navigate with friends or family without ever losing sight of the your loved ones in the other canoe. You think it takes away from the canoe's romantic appeal? Maybe so, but it's certainly effective.
*Children must be at least 12 years old and experienced in order to be independent and autonomous in their watercraft. In addition, an adult must be present at all times on the water and ready to help if necessary. If the children are under 12 years old, an adult must be present in the watercraft.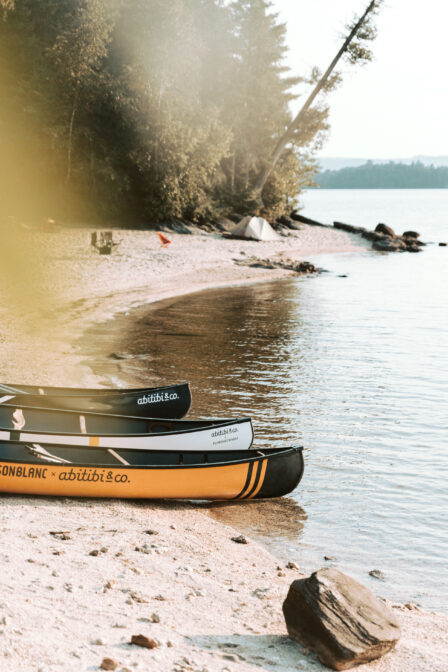 Abitibi & Co Canoe
For those who like local products and design, well, you can rent one of our 5 Abitibi & Co. canoes. It is not possible to choose a particular canoe, but luckily, they are all practically identical (16-foot 2-bench prospector), it is only the aesthetics that change. Take advantage of the fresh water at Poisson Blanc to try out these beautifully designed watercrafts that are sustainable and eco-responsible. In addition to being beautiful, it's the good stuff.
*Important, it is not possible to climb on the waterfront walls with these canoes.
Other Important Information
If you're coming to camp as a group, don't hesitate to rent several types of watercraft and switch them up during your stay. It makes for a great change of pace. As long as there's one canoe in which to put the big cooler and Coleman stove.
If you wish to reach Poisson Blanc from the southern part of the reservoir, you need to rent your watercraft from the Base de plein air Air-Eau-Bois. Contact them at 819-457-4040 for more details or to reserve.
Each Rental
Incluent :
2 individual life jackets with whistle (3 PFDs for 3 places, 4 PFDs for 4 places)
1 rope bag with scoop or bilge pump and 1 (or 2) kayak skirt (s)
2 paddles
1 parking spot at Le Bastion Entrance Office
Access to outdoor showers at the Bastion
Does not include :
Taxes
Any additional lifejacket or paddle.
Rates
| | | |
| --- | --- | --- |
| Watercraft | Daily Rate | Max. # of Adult |
| 16′ prospector canoe – 2 seats | 39$ | 2 |
| 16′ prospector Abitibi & Co canoe  – 2 seats | 45$ | 2 |
| 17′ prospector canoe – 3 seats | 45$ | 2 |
| 20′ miramichi canoe – 4 seats | 55$ | 3 |
| Paddleboarding – Adult | 29$ | 1 |
| Paddleboarding touring – Adult | 34$ | N/A |
| Paddleboarding – Children | 19$ | 1 |
| Epsilon solo sea kayak | 34$ | 2 |
| Catacanot (catamaran hitch for canoes) | 15$ | N/A |
After Sale Policies
It is possible to cancel or modify your reservation. However, some conditions apply. It is necessary to read our after sales policies before making a reservation.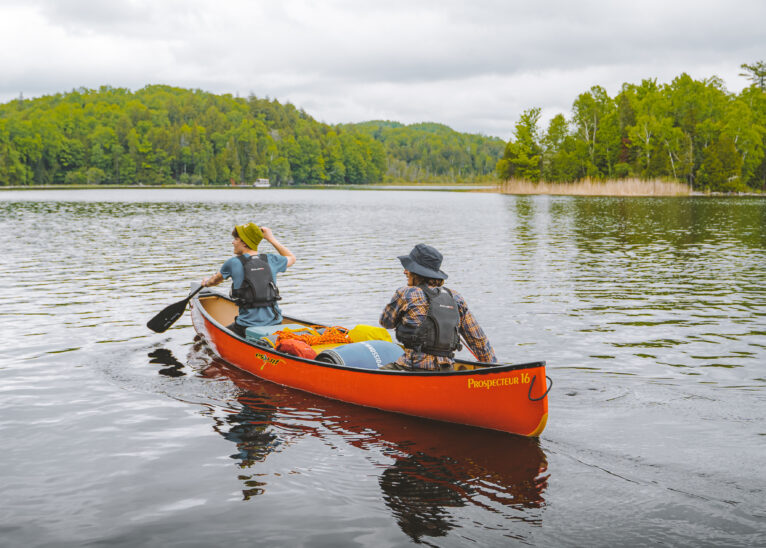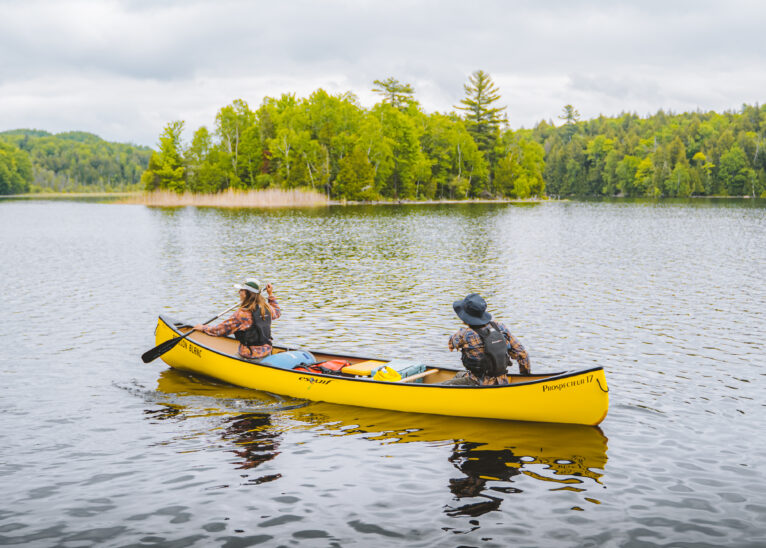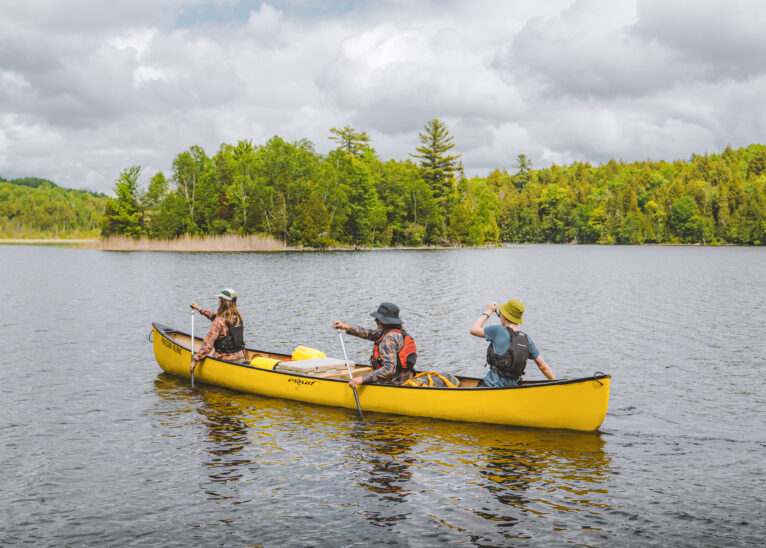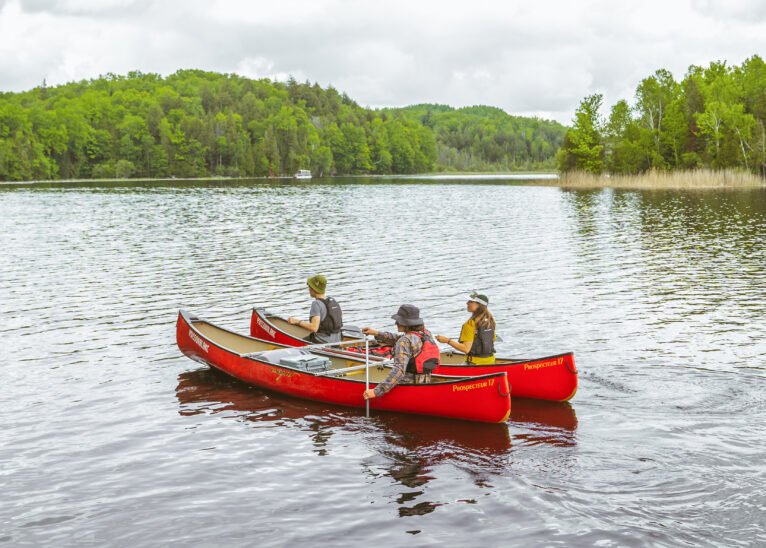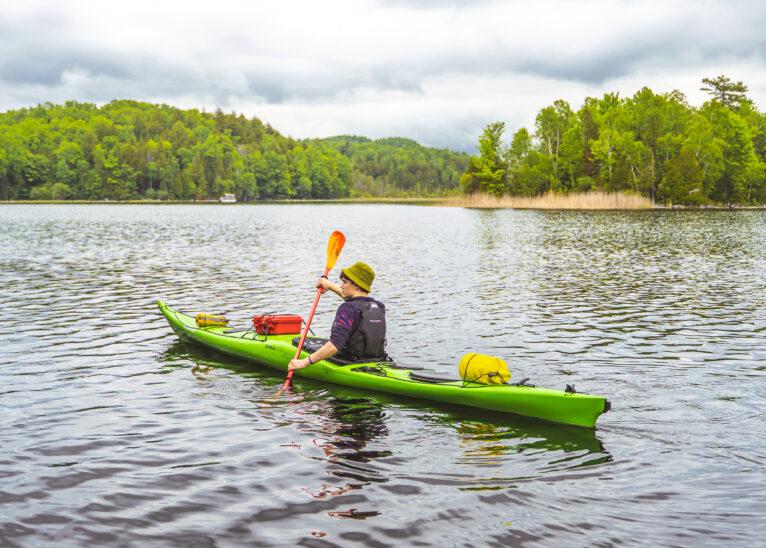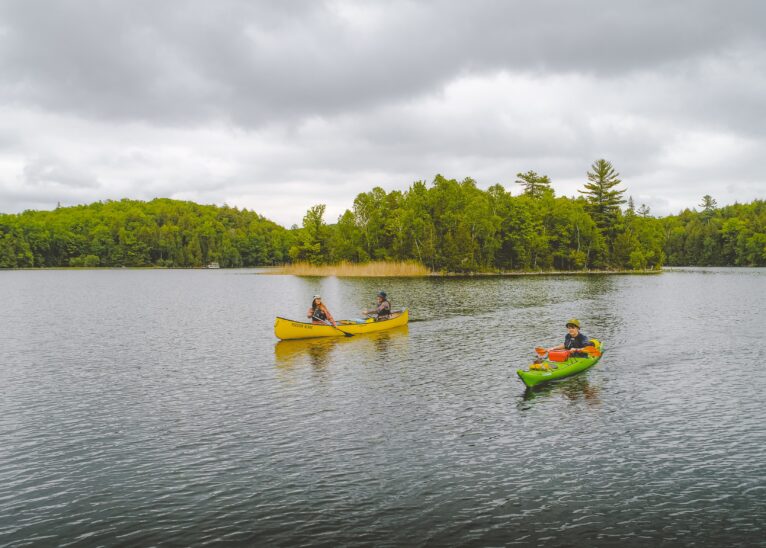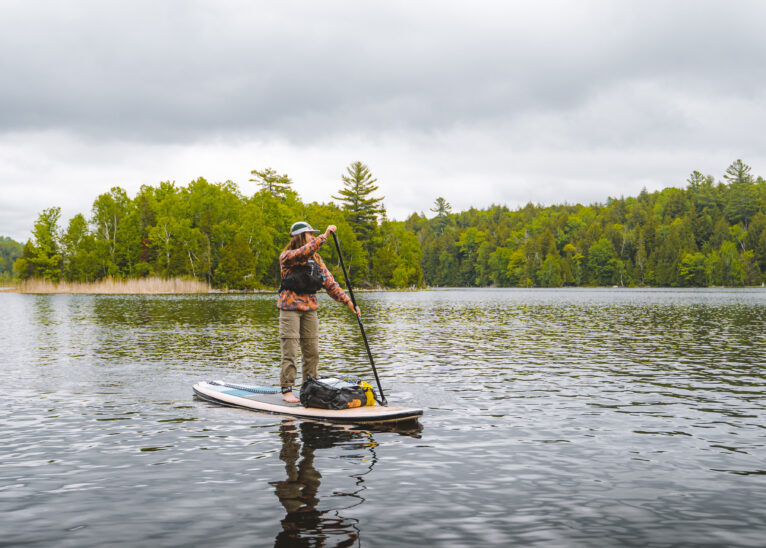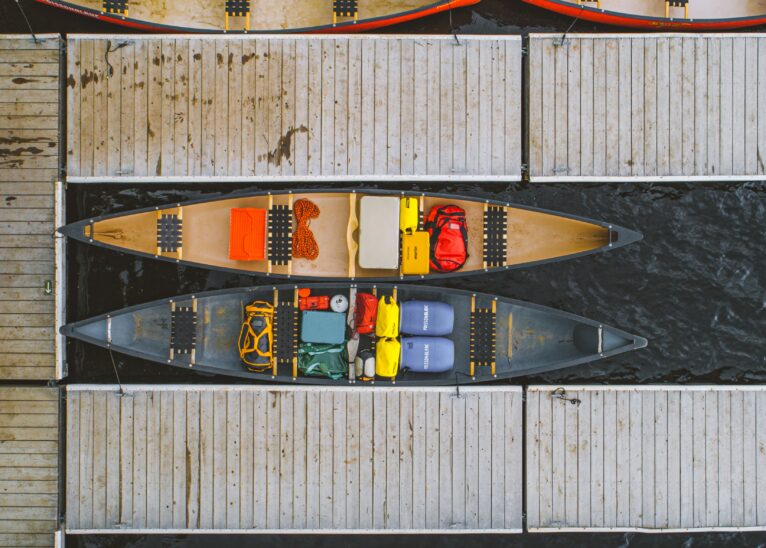 This Place is a Canoe-Camping Eldorado
Never been canoe camping in the Laurentians before? No problem, we are here to help you become a real pro.