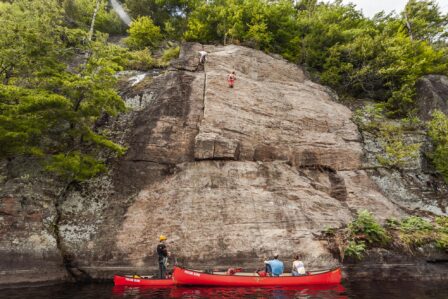 In development since 2019, the Paroi Écho is one of the main attractions of the Poisson Blanc Regional Park. This wall offers a diversity of routes and climbing styles. An ideal playground for beginners and advanced climbers.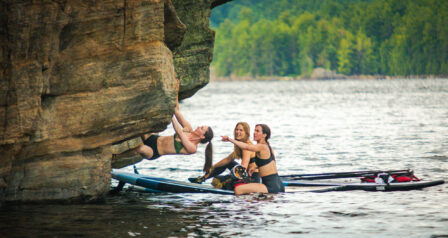 FQME
The Paroi Écho climbing site is sanctioned by the Fédération québécoise de Montagne et d'Escalade (FQME). To climb here, you must be a member.
The park team works diligently alongside the FQME to continually improve and maintain the wall for climbers. New routes are always being added each year.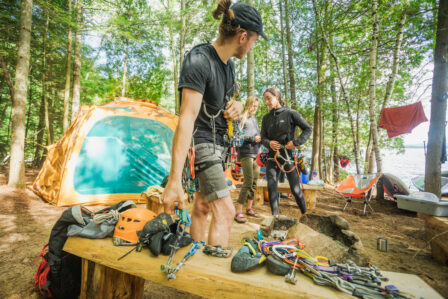 Camping nearby
The Paroi Écho is several kilometers by canoe from the Poisson Blanc Regional Park reception area. The best way to access the wall is to book a campsite nearby, and use it as a base camp. The closest campsites to the wall, which provide 20-minute or less campsite access, are as follows, in order of proximity:
42E – 42A – 41 – 44A – 45A – 39
Stats
100 metres wide
60 metres high (maximum)
Sport, trad and top-rope
5.6 to 5.12
Access
Free for all FQME members.
Otherwise, you have to join the FQME.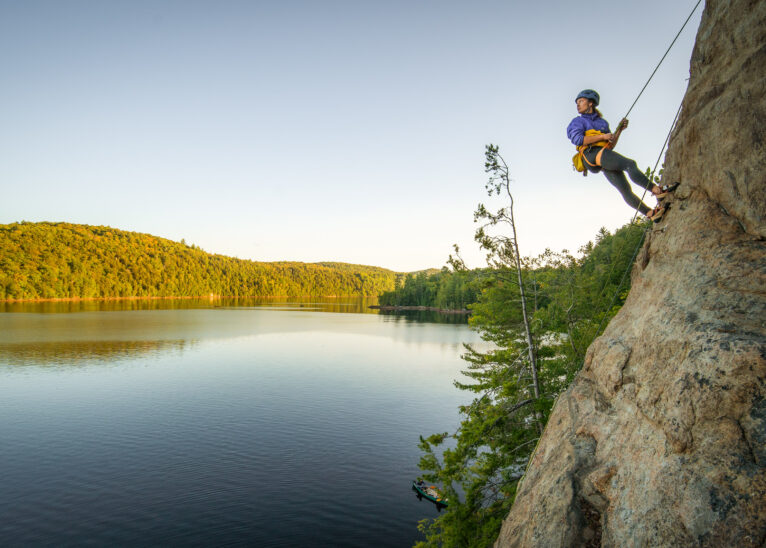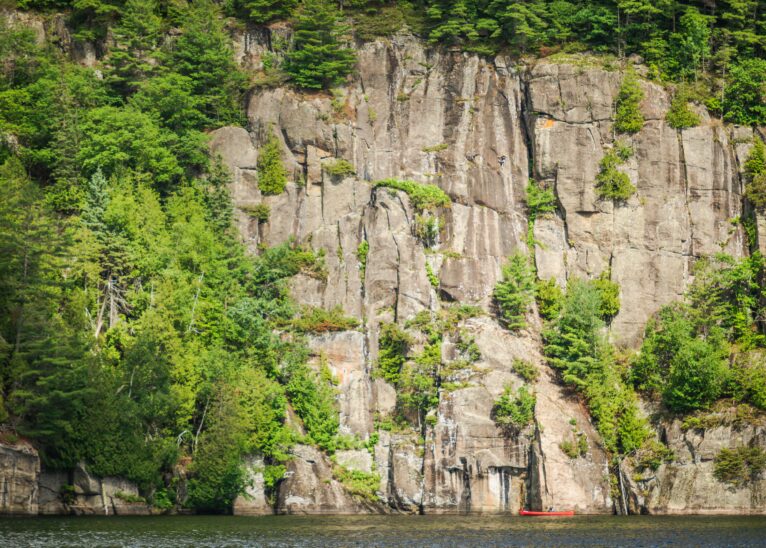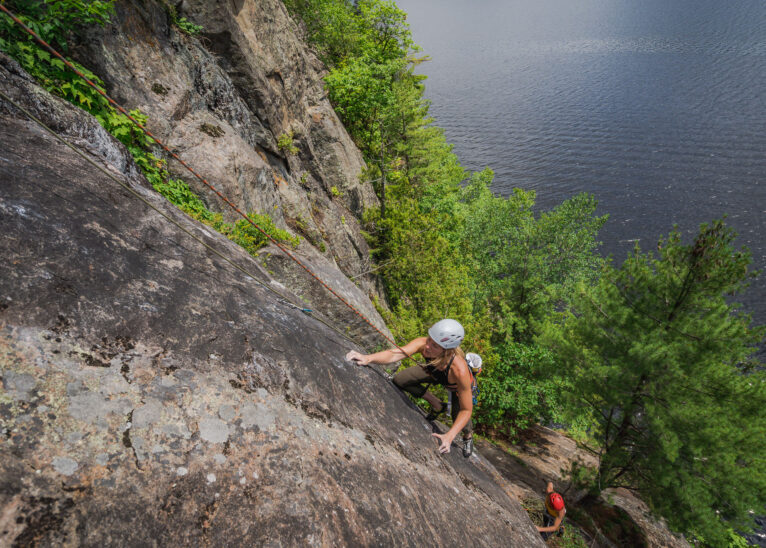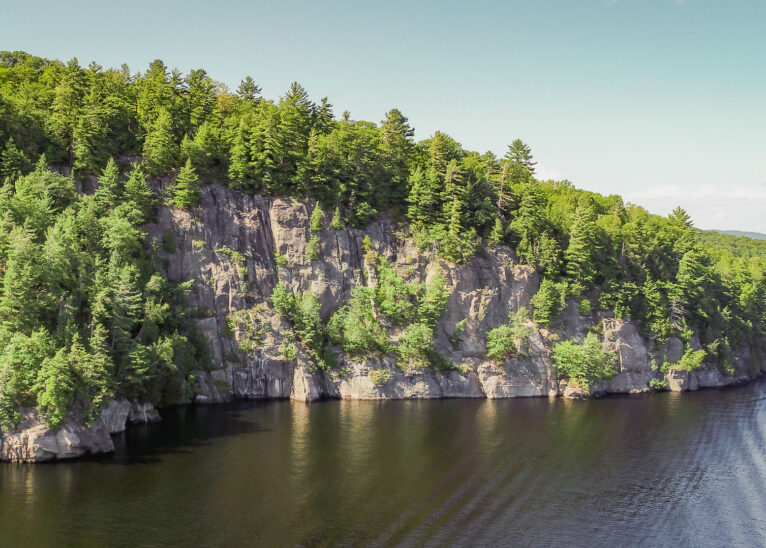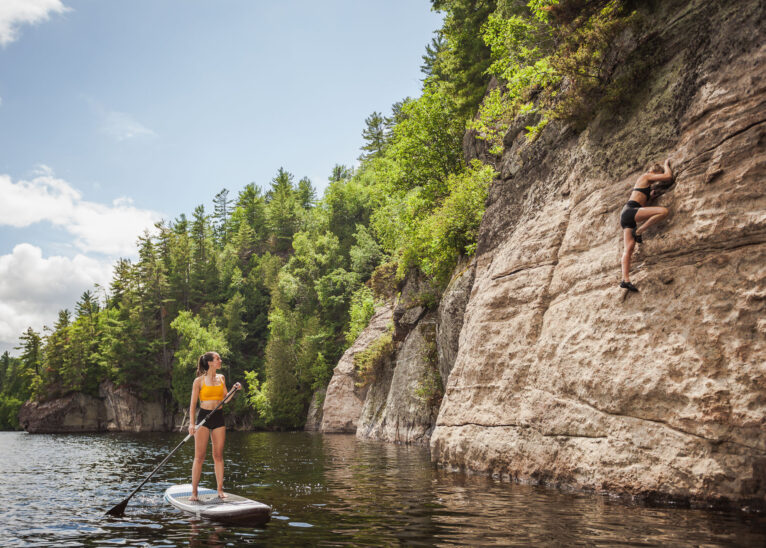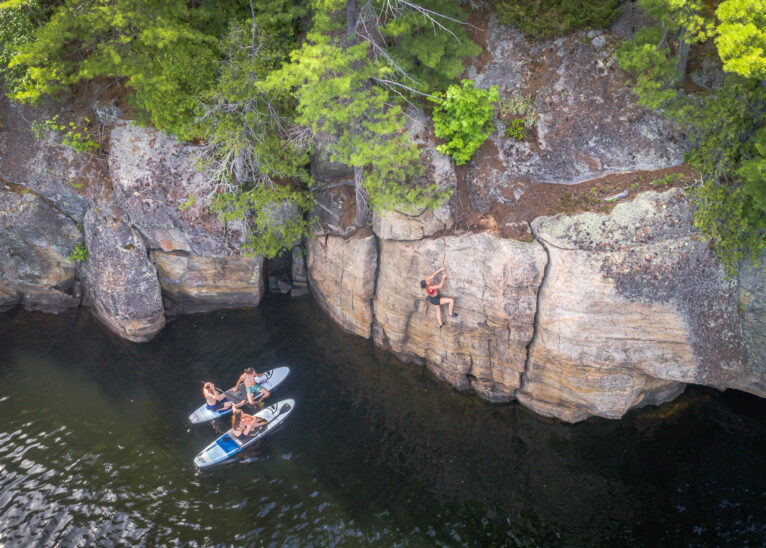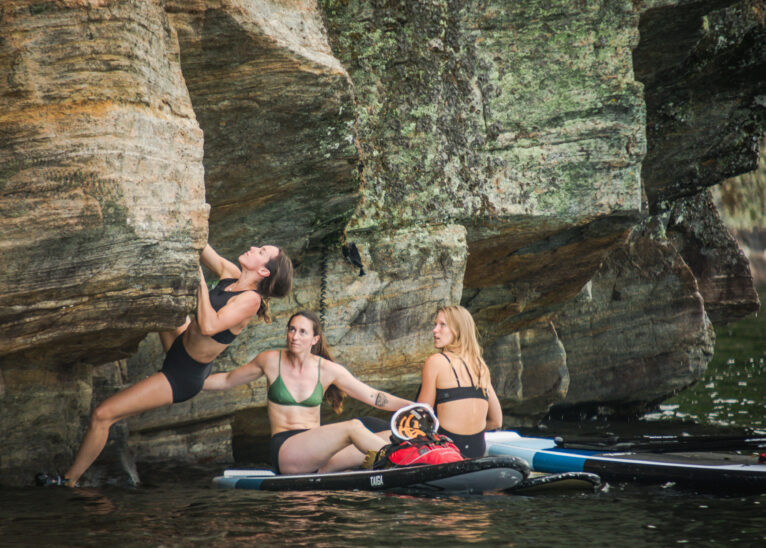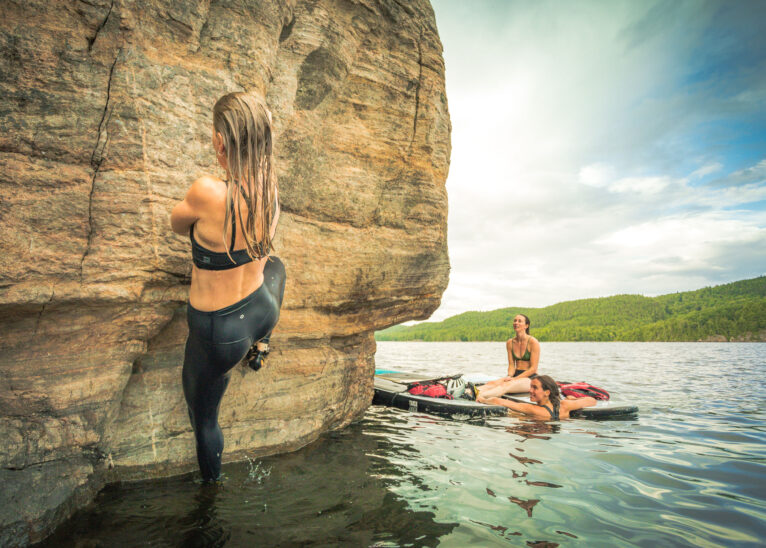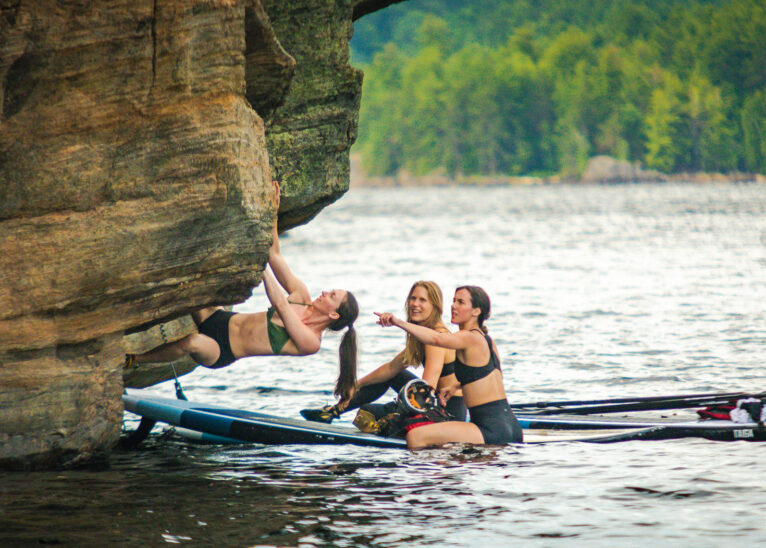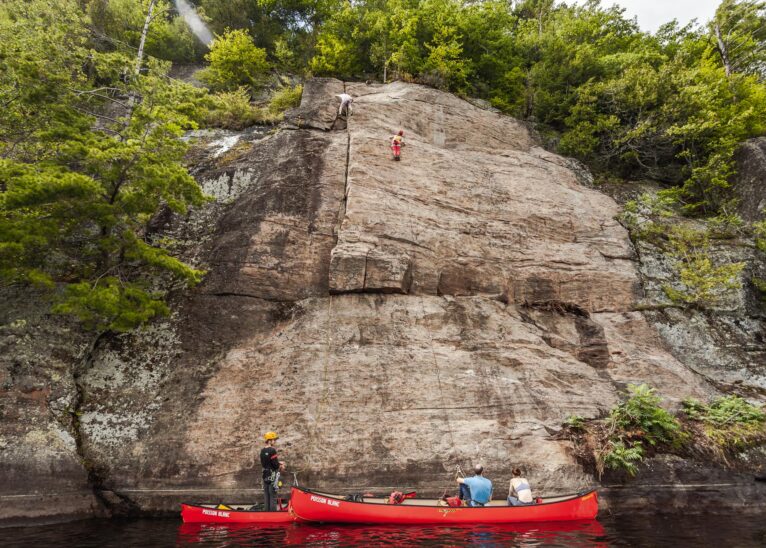 Accueil Le Bastion

The Prisme

60 mètres 2 minutes walk

The Pic-Flamboyant

300 meter 4 minute by foot

The Pic-Mineur

300 mètres 5 minutes à pied

The Cardinal

300 meter 4 minutes by foot

The Grand-Pic

300 mètres 5 minutes à pied

1

La Cigogne

0,5 km 15 minutes

2A

Site des Pères

2 km +/- 40 minutes

3A

Site des Mauves

1.3 km +/- 30 minutes

2C

La Pointe des Pères

2 km +/- 40 minutes

3B

La pointe des Mauves

1.5 km +/- 30 minutes

13

Le Soleil du Midi

3.5 km +/- 1:15

6

La Sainte Paix

1.6 km +/- 30 minutes

20

Les pieds dans le sable

1.6 km +/- 30 minutes

12A

Le Cap du soleil couchant

2.5 km +/- 45 minutes

12C

La Pointe aux Harles

2.5 km +/- 45 minutes

23A

L'aurore

3 km +/- 1 hour

24

La Pointe du Couchant

3.3 km +/- 1:10

12D

La Pointe au Cerisier

2.5 km +/- 45 minutes

23B

La Pointe à Bill

3.7 km +/- 1:15

27A

La Canopé

4 km +/- 1h20

29

L'île à la Loutre

4 km +/- 1h20

25

La Retraite

3 km +/- 1 heure

26

La Lagune

4 km +/- 1:20

27B

La Cigale

5 km 1h30

31

Le Paradis

4,5 km +/- 1:30

34

Katimavik

4 km +/- 1:20

40

L'oasis

5 km 1h30

36

L'Entrée du Chenal

4.9 km +/- 1:40

39

Pointe aux bleuets

5.4 km +/- 1:45

41

La pointe de Granit

6 km +/- 2 hours

42A

La Chanterelle

6 km approximately 2h of canoeing

42E

L'Équateur

7 km +/- 2 hours

44B

L'évasion

9 km 3h

44A

L'Enclume

9 km 3 hours

44C

La pointe à la perdrix

9 km +/- 3 heures

45A

Le Parasol

9 km 3h

45B

La pointe aux Dorés

9 km +/- 3 hours

47A

La pointe du Brochet

9.1 km +/- 3 hours

47B

La Terrasse

9.1 km +/- 3 hours

47C

La pointe Ensoleillée

10 km +/- 3:20

52A

La Plage Cachée

11 km +/- 3:40

52C

Le cap siffleur

11 km +/- 3:40

55A

Le Lagon Bleu

12.5 km +/- 4:10

55C

Le site de la Sand Bar

13 km +/- 4:20

56

Le Rocher Fendu

13.5 km +/- 4:30

59

La Pointe aux Bouleaux

15 km +/- 5 hours

60

La Plage d'or

14 km +/- 4:30

63A

Cap à la Tortue

15 km +/- 5 hours

63B

Site de la Paroi Éléphant

15.2 km +/- 5 hours

63C

La Péninsule

15.5 km +/- 5:10

64

L'Île Mira

15 km +/- 5 hours

66A

La Pointe au Pin

13 km +/- 4:20

66D

Le cap à l'aigle

13.5 km +/- 4:30

68

L'Île aux voyageurs

14 km +/- 4:30

70A

La petite Plage

16.4 km +/- 5:30

70B

La grande Plage

16.4 km +/- 5:30

70C

La Pointe aux Chênes

16.2 km +/- 5:30

70G

La Citadelle

14 km +/- 4:30

70K

La Pointe de l'Épervier

16.2 km +/- 5:20

Le camp de base

6.7 km 10 minutes by car

Le site de la plage

6.5 km 10 minutes by car

Picnic Stop 8

2 km 40 minutes

Picnic Stop 9

2 km 40 minutes

Picnic Stop 10

2.2 km around 45 minutes

Picnic Stop 12B

2.5 km around 45 minutes

Picnic Stop 21

1.5 km 30 minutes

Picnic Stop 22

2 km +/- 40 minutes

Picnic Stop 28B

3.8 km around 1h20

Picnic Stop 30B

3.8 km around 1h20

Picnic Stop 33C

4.5 km around 1h20

Picnic Stop 35

4.5 km around 1h20

Picnic Stop 38

5 km around 1h40

Picnic Stop 42B

6.5 km around 2h30

Picnic Stop 48

10.5 km around 3h30

Picnic Stop 49

11 km around 3h40

Picnic Stop 54C

12 km around 4h00

Picnic Stop 55D

13 km around 4h20

Picnic Stop 55E

13.5 km around 4h40

Picnic Stop 57A

14 km around 5h00

Picnic Stop 57B

14 km around 5h00

Picnic Stop 63D

15.5 km around 5h20

Picnic Stop 66C

14 km around 5h00

B2

Blocs des Pères

0,7 km +/- 30 minutes of canoeing débutant à avancé

P42

The Paroi Écho

7 km +/- 2h30 of canoeing débutant à avancé

Sentier du Chenal

Intermédiaire

Sentier le Cap du sud

Intermédiaire

Sentier de l'île en U

Intermédiaire

Sentier de la Paroi Éléphant

Débutant

Sentier La Baie-Durand

Intermédiaire

Plage du Rapide-du-Fort

5,5km

Sentier des Merisiers

Débutant

Sentier Katimavik

Intermédiaire

Sentier du Sommet

Intermédiaire

Sentier Desjardins

+/- 4 heures Intermédiaire

P63

The Paroi Éléphant

15 km +/- 5h of canoeing Débutant à avancé
Book
Distance
Estimated Time
Category
Area
Beach
Access
Level
Altitude
Length
Elevation