Guide Available on the Rakkup Application
With a view to reducing our paper consumption, we're offering you an electronic guide via the Rakkup app. In addition to making it easier to find and consult routes, you'll always have access to up-to-date information, even outside cellular network zones, when you download the guide from the app.
It's All There!
The Poisson Blanc Guide on Rakkup provides you with all the information you need to access and approach the cliffs, as well as ratings, descriptions and photos of your future climbing projects – just a click away, in the car, at the campfire or at the foot of the wall!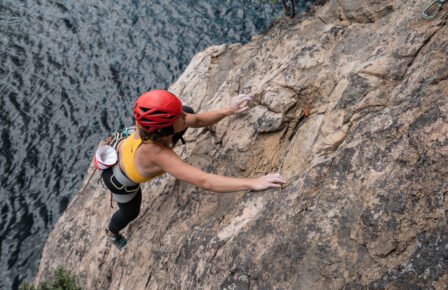 Downloading Rakkup
Step-by-Step
1. Download the Rakkup application on your smartphone.
2. Once downloaded, open the application and go to the search section (Guidebook Store).
3. Search using the keywords Poisson Blanc and download the guide by choosing the purchase ($5.00 USD valid for life) or rental option ($3.00 USD valid for 2 months).
4. Once downloaded, the guide is automatically available offline! To optimize consultation throughout your stay, we recommend that you set your phone to airplane mode, or close it between each use.
Available Info
On Rakkup, the routes are all listed by climbing sector. By clicking on the route name, you'll have access to a wide range of information, including:
Type of route (sport, top-roping, trad);

Rating (difficulty and quality);

Height;

Description;

Approach;

Interactive photos of climbing paths;
General information and safety measures.