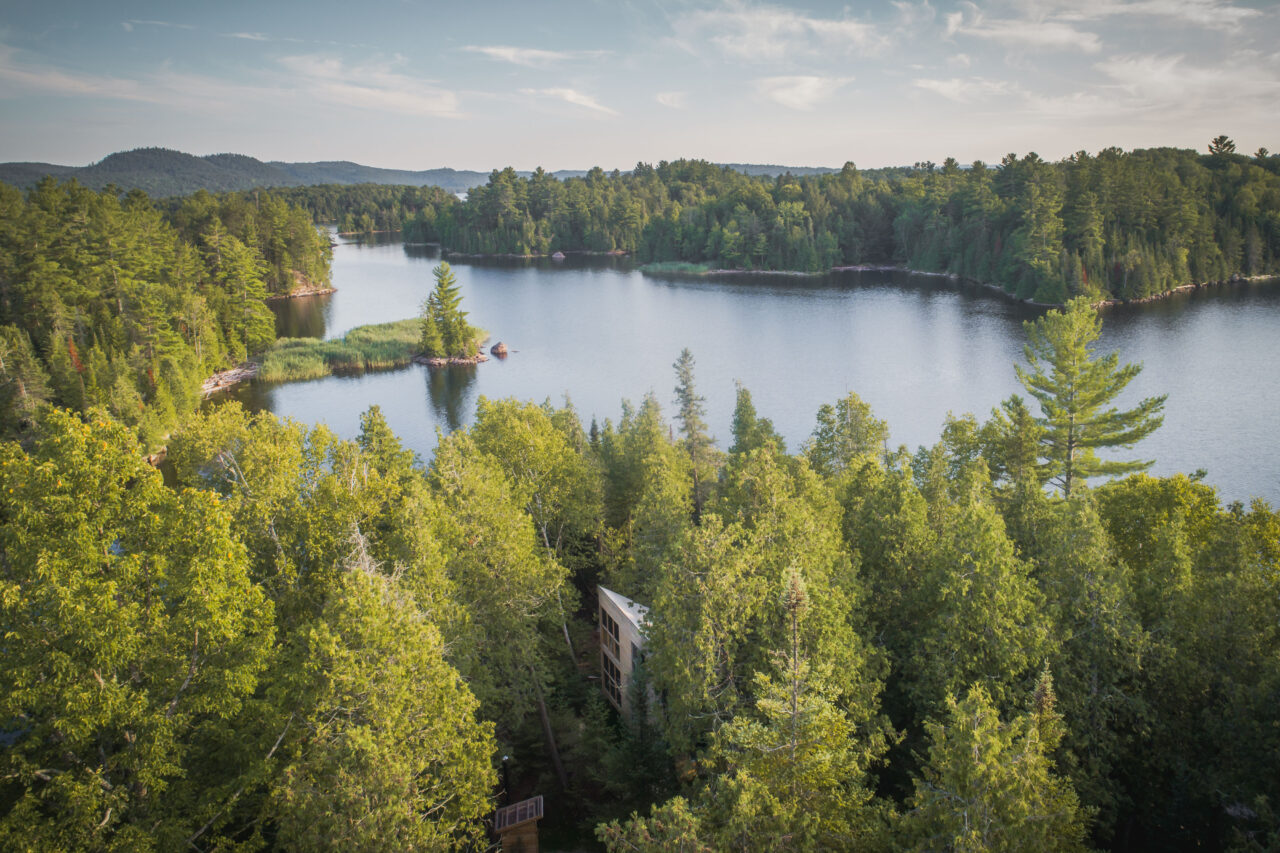 Wild camping on the islands is great, but sometimes a touch of comfort is nice, too. That's why Poisson Blanc regional Park also offers nights in the forest with a roof over your head. Is it a hut or a cabin? A tiny home or glamping? All of the above. The park's modern cabins offer an elegantly autonomous rustic way to immerse yourself in the superb nature that lines the shores of réservoir du Poisson Blanc.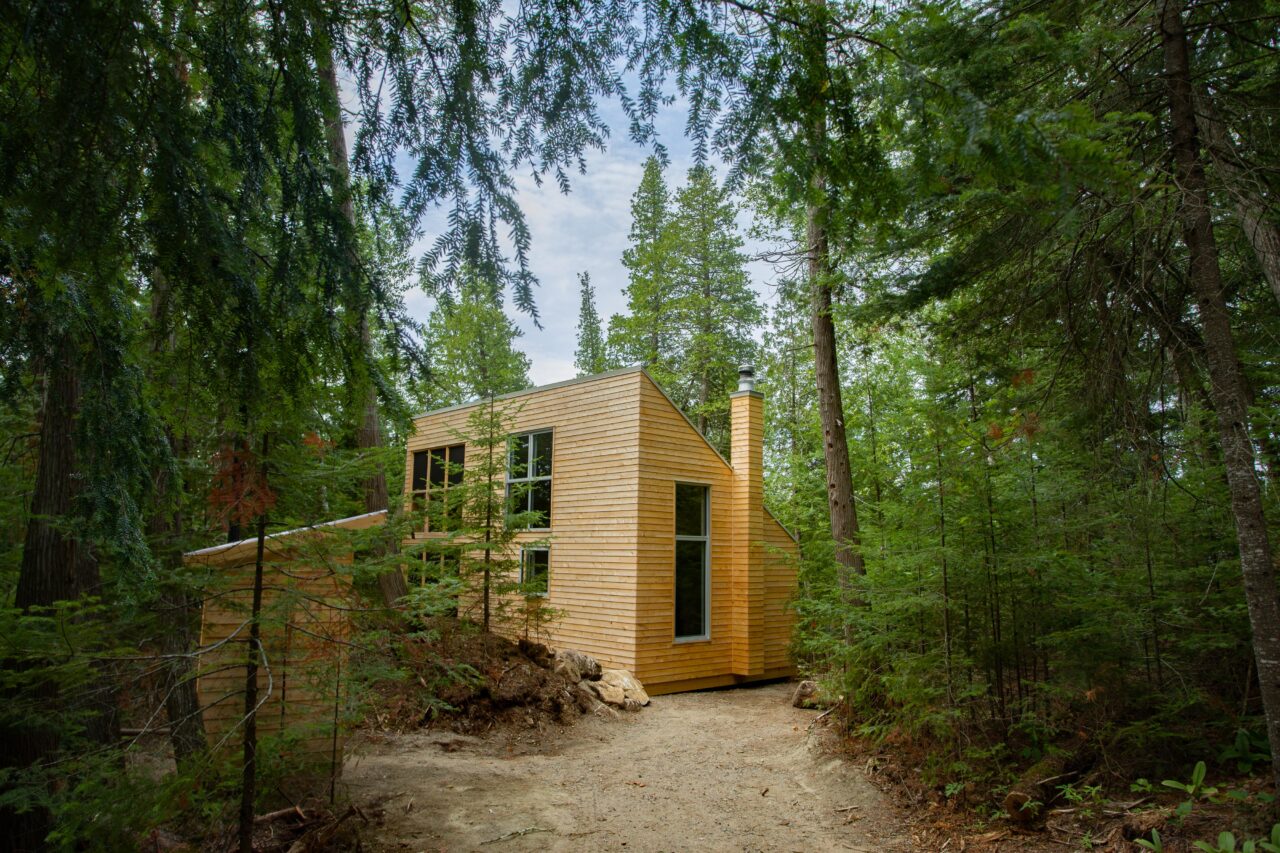 The Grand-Pic
The Grand-Pic is a cabin strategically placed at the end of Pointe de la Truite, on the lake. It's surrounded by the glassy waters of Lac Poisson Blanc and offers its own unfettered access to it. Built to comfortably accommodate four people, this modern refuge will win the hearts of lovers of the outdoors and design alike.
Accommodates 4 (2 queen-sized beds)
4 seasons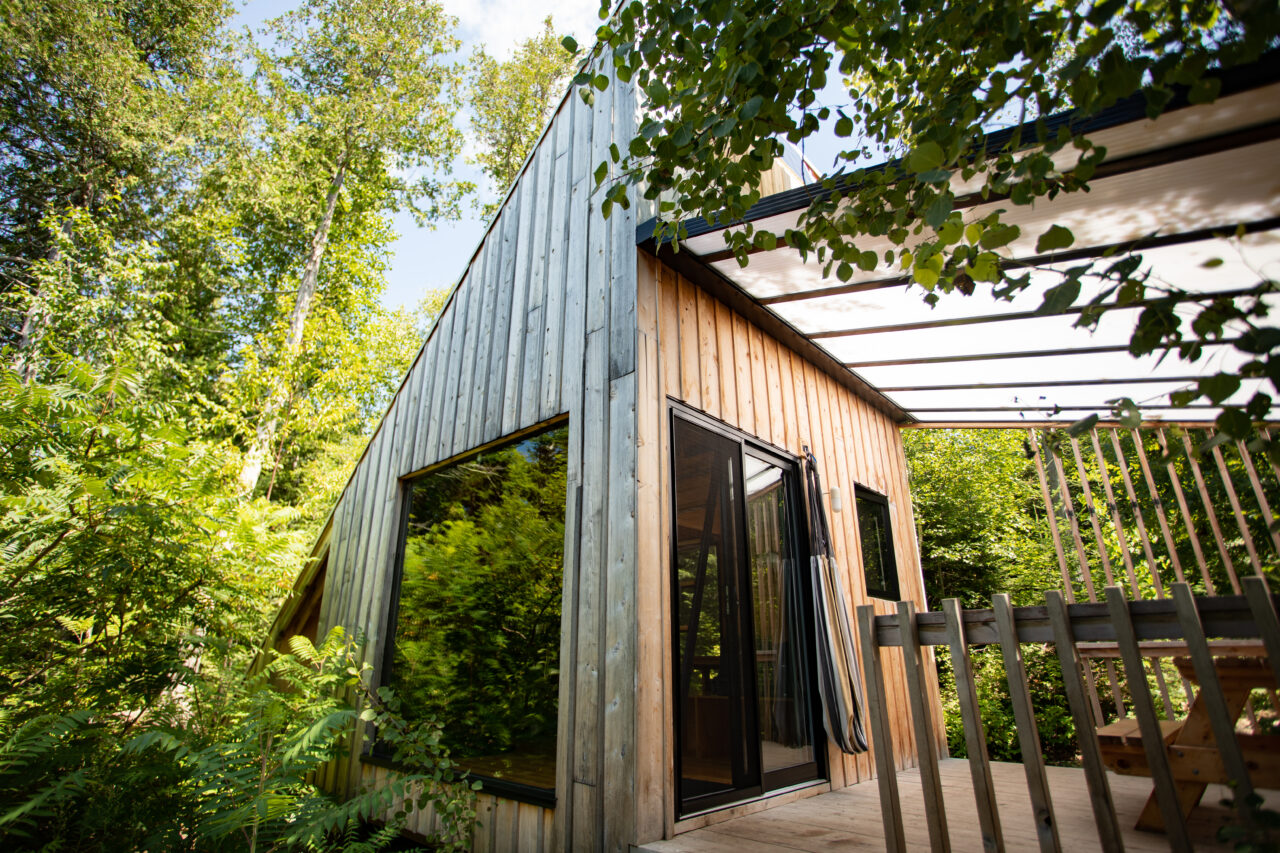 The Pic-Mineur
The Pic-Mineur is a cabin located only a few metres away from the shoreline of réservoir du Poisson Blanc. Its large covered deck, sheltered by transparent roofing that lets the light through, is a boon in every season. Inside, the wall-to-wall wood finishing instills a homey warmth. Guests are likewise charmed by a suspended arm chair, the clever and compact design, and most of all by the intimate atmosphere.
Accommodates 2 (1 queen-sized bed)
4 seasons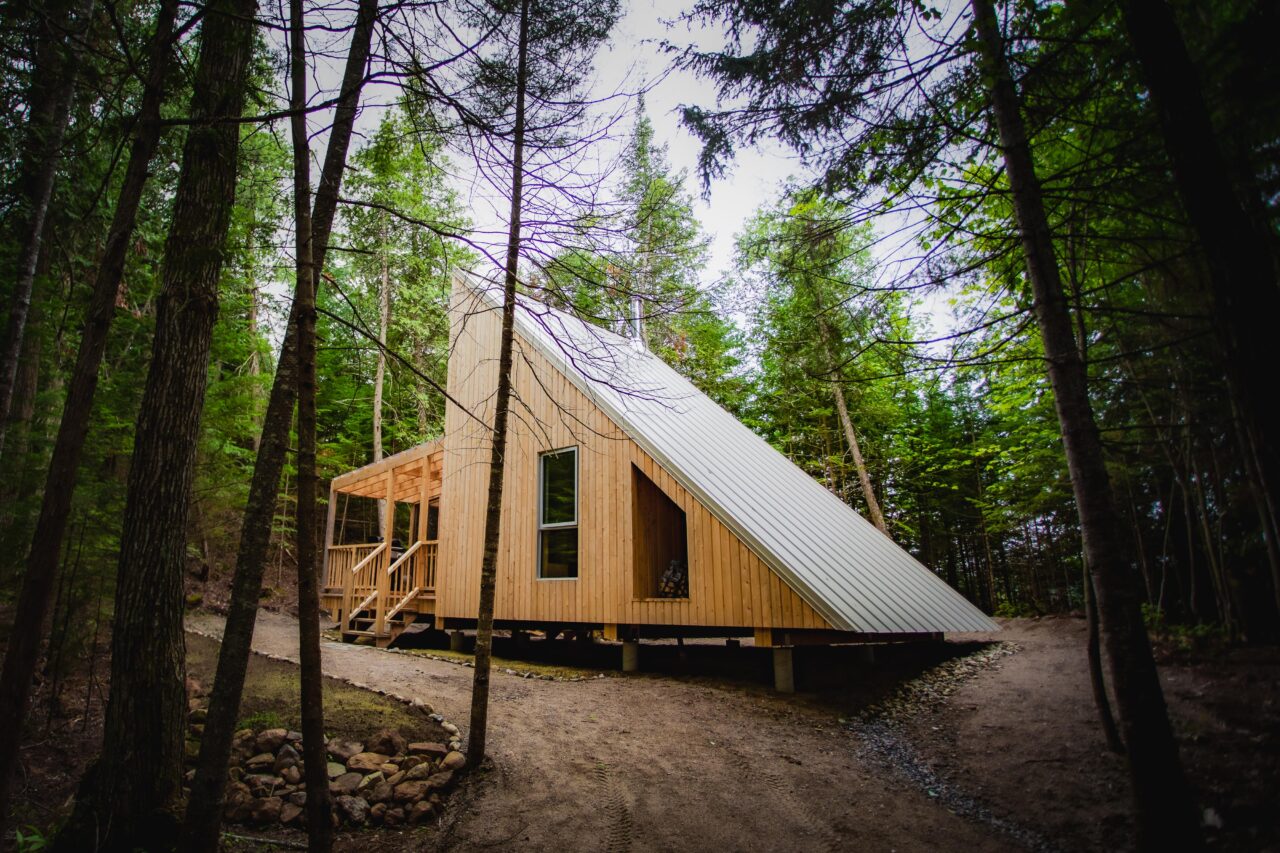 The Pic-Flamboyant
The Pic-Flamboyant is the 3rd model of our cabins projet. Its design is strongly inspired by the shapes of the Pic-Mineur. However, it is more spacious and can accommodate 4 adults or a family of 4 people. Its ergonomics will allow you to stay there comfortably. The Pic-Flamboyant has its own access to the Poisson Blanc reservoir and is located 4 minutes walk from the reception pavilion.
Accommodates 4 (1 double bed and 1 queen bed)
4 seasons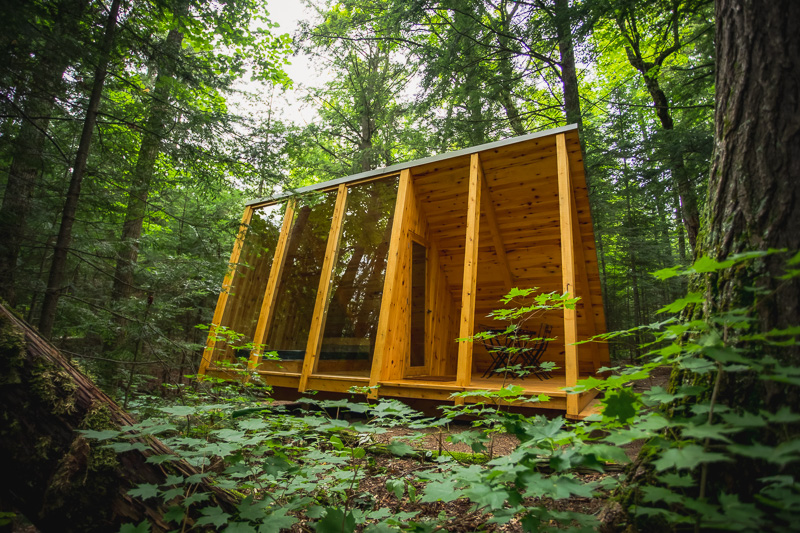 The Prisme
The Prisme is a minimalist, clean-lined lodging building, similar to the lean-too found in the American East parks. The triangular prism-shaped structure has lots of windows. This accommodation has a queen bed and a small outdoor patio set. The building is located 60 meters from the parking lot for your vehicle and can accommodate a maximum of 2 adults. The Prisme rental also includes private access to an additional tent site, picnic table and fire pit. The tent site can accommodate a maximum of 2 people.
Accommodates 2 (1 queen-sized bed) and 2 other places in the tent
4 seasons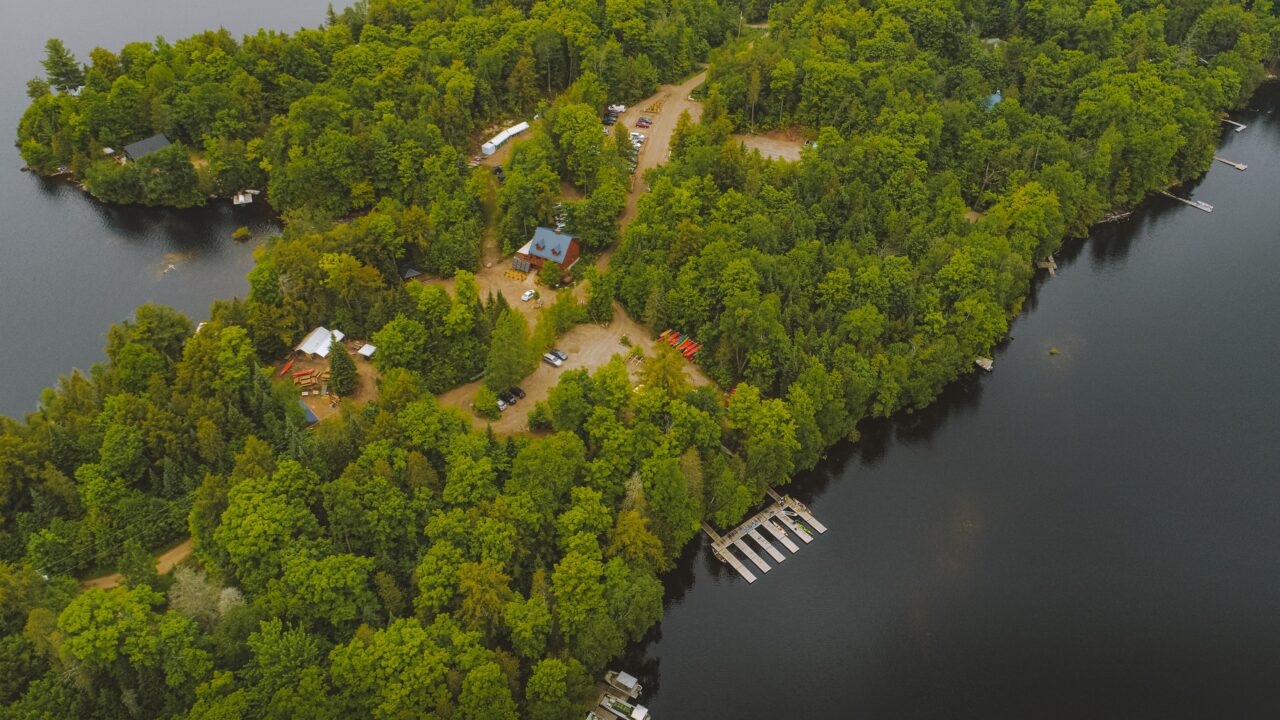 Before you arrive, download the map of the reception area. This way, it will be easier to find the location of your cabin.
2022 Rates
Cabins
Weekdays low season
May 13th-June 16th/Sept. 5th-Oct. 17th
Week-end low season
May 13th-June 16th/Sept. 5th-Oct. 17th
High Season
June 17th-Sept. 4th
Prisme
70$
100$
110$
Pic-Mineur
150$
170$
180$
Pic-Flamboyant
170$
200$
210$
Grand-Pic
180$
220$
230$
The Prisme

60 mètres 2 minutes walk

The Pic-Mineur

300 mètres 5 minutes à pied

The Grand-Pic

250 mètres 5 minutes à pied

The Pic-Flamboyant

300 meter 4 minute by foot

Accueil Le Bastion

1

La Cigogne

0,5 km 15 minutes

2A

Site des Pères

2 km +/- 40 minutes

2B

Le Franc Sud

1.6 km +/- 30 minutes

3A

Site des Mauves

1.3 km +/- 30 minutes

2C

La Pointe des Pères

2 km +/- 40 minutes

3B

La pointe des Mauves

1.5 km +/- 30 minutes

13

Le Soleil du Midi

3.5 km +/- 1:15

6

La Sainte Paix

1.6 km +/- 30 minutes

12A

Le Cap du soleil couchant

2.5 km +/- 45 minutes

12C

La Pointe aux Harles

2.5 km +/- 45 minutes

23A

L'aurore

3 km +/- 1 hour

24

La Pointe du Couchant

3.3 km +/- 1:10

12D

La Pointe au Cerisier

2.5 km +/- 45 minutes

20

Les pieds dans le sable

1.6 km +/- 30 minutes

23B

La Pointe à Bill

3.7 km +/- 1:15

27 A

La Canopé

4 km +/- 1h20

25

La Retraite

3 km +/- 1 heure

31

Le Paradis

4,5 km +/- 1:30

26

La Lagune

4 km +/- 1:20

27B

La Cigale

5 km 1h30

36

L'Entrée du Chenal

4.9 km +/- 1:40

29

L'île à la Loutre

4 km +/- 1h20

34

Katimavik

4 km +/- 1:20

44A

L'Enclume

9 km 3 hours

42E

L'Équateur

7 km +/- 2 hours

39

Pointe aux bleuets

5.4 km +/- 1:45

41

La pointe de Granit

6 km +/- 2 hours

45A

Le Parasol

9 km 3h

42A

La Chanterelle

6 km approximately 2h of canoeing

44B

La pointe à la perdrix

9 km +/- 3 heures

45B

La pointe aux Dorés

9 km +/- 3 hours

47A

La pointe du Brochet

9.1 km +/- 3 hours

47B

La Terrasse

9.1 km +/- 3 hours

47C

La pointe Ensoleillée

10 km +/- 3:20

52A

La Plage Cachée

11 km +/- 3:40

52C

Le cap siffleur

11 km +/- 3:40

55A

Le Lagon Bleu

12.5 km +/- 4:10

55C

Le site de la Sand Bar

13 km +/- 4:20

56

Le Rocher Fendu

13.5 km +/- 4:30

59

La Pointe aux Bouleaux

15 km +/- 5 hours

60

La Plage d'or

14 km +/- 4:30

63A

Cap à la Tortue

15 km +/- 5 hours

63B

Site de la Paroi Éléphant

15.2 km +/- 5 hours

63C

La Péninsule

15.5 km +/- 5:10

64

L'Île Mira

15 km +/- 5 hours

66A

La Pointe au Pin

13 km +/- 4:20

66D

Le cap à l'aigle

13.5 km +/- 4:30

68

L'Île aux voyageurs

14 km +/- 4:30

70A

La petite Plage

16.4 km +/- 5:30

70B

La grande Plage

16.4 km +/- 5:30

70C

La Pointe aux Chênes

16.2 km +/- 5:30

70G

La Citadelle

14 km +/- 4:30

70K

La Pointe de l'Épervier

16.2 km +/- 5:20

Le camp de base

6.7 km 10 minutes by car

Le site de la plage

6.5 km 10 minutes by car

Picnic Stop 8

2 km 40 minutes

Picnic Stop 9

2 km 40 minutes

Picnic Stop 10

2.2 km around 45 minutes

Picnic Stop 12B

2.5 km around 45 minutes

Picnic Stop 21

1.5 km 30 minutes

Picnic Stop 22

2 km +/- 40 minutes

Picnic Stop 28B

3.8 km around 1h20

Picnic Stop 30B

3.8 km around 1h20

Picnic Stop 33C

4.5 km around 1h20

Picnic Stop 35

4.5 km around 1h20

Picnic Stop 38

5 km around 1h40

Picnic Stop 42B

6.5 km around 2h30

Picnic Stop 48

10.5 km around 3h30

Picnic Stop 49

11 km around 3h40

Picnic Stop 54C

12 km around 4h00

Picnic Stop 55D

13 km around 4h20

Picnic Stop 55E

13.5 km around 4h40

Picnic Stop 57A

14 km around 5h00

Picnic Stop 57B

14 km around 5h00

Picnic Stop 63D

15.5 km around 5h20

Picnic Stop 66C

14 km around 5h00

B2

Blocs des Pères

0,7 km +/- 30 minutes of canoeing débutant à avancé

P42

The Paroi Écho

7 km +/- 2h30 of canoeing débutant à avancé

Sentier du Chenal

Intermédiaire

Le Cap du sud

Intermédiaire

Sentier de l'île en U

Intermédiaire

Sentier de la Paroi Éléphant

Débutant

Sentier Rapide-du-Fort

Intermédiaire

Sentier des Merisiers

Débutant

Sentier Katimavik

Intermédiaire

Sentier du Sommet

Intermédiaire

Sentier Desjardins

+/- 4 heures Intermédiaire

P63

The Paroi Éléphant

15 km +/- 5h of canoeing Débutant à avancé
Reserve
Distance
Estimated Time
Category
Area
Beach
Access
Level
Altitude
Length
Elevation