La grande Traversée
du Poisson Blanc 2020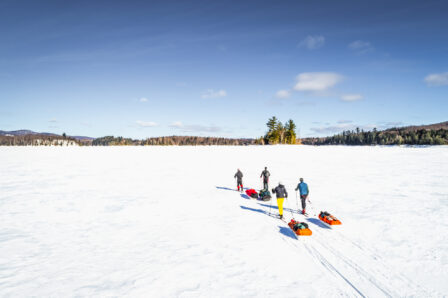 La Grande Traversée du Poisson Blanc is an independent Nordic skiing expedition with pulka (sled) which includes 25 km of hiking and one night of winter camping.
Picture a chance to make your mark in the snow across the vast reservoir, trekking past it's beautiful islands in the silence and whiteness of our Quebec winter landscapes. The objective of this winter expedition is to present outdoor enthusiasts with a sporting event that offers a challenge, but remains accessible to those who wish to learn winter camping and Nordic skiing in the context of nature, with the support of a technical team ready to assist if required.
This year marks the second edition of the Grande Traversée. The organizers of the event will gather 40 skiers who will take up this challenge in a relaxed atmosphere where everyone advances at their own pace and participants help each other if necessary. Each participant is responsible for their own equipment and food and must be fully autonomous.
Technical information
between 22 and 30 km journey total
Nordic skiing with pulka
1 night of winter camping
fully autonomous expedition
Animated night / campfire
from February 7th to the 9th
with support from a technical team
Snowshoe hikes to watch the sunset
No dogs allowed
Cost
70$ plus tax per person
1 reservation per participant