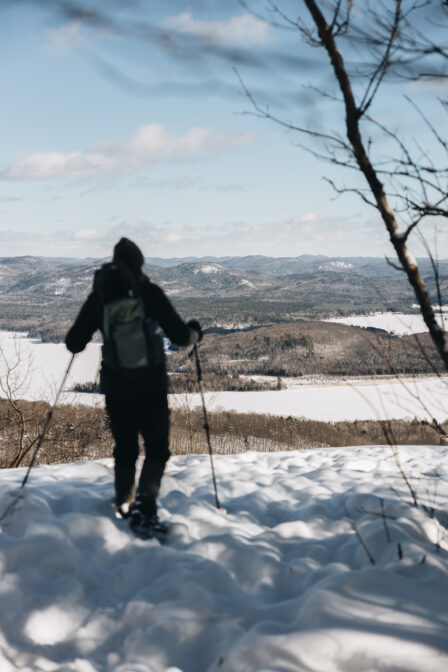 Winter Hiking at
the Montagne du Fort
The hiking trails of Montagne du Fort are accessible by snowshoe during the winter season. This intimate and magical territory offers a wide range of trails with the possibility to choose the right levels of difficulty. Also, this place is the perfect spot to try a new winter sport such as ski-hok.
Please note that the trails on the islands and on the shores of the reservoir are not open during the winter period.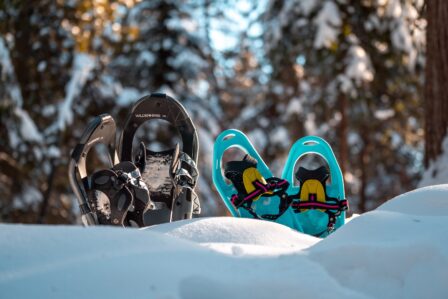 Snowshoe and Ski-hok Rental
Thanks to our equipment rental service, it is possible to rent snowshoes or skis-hooks at a fixed price for any length of stay. For more information, please visit our equipment rental page.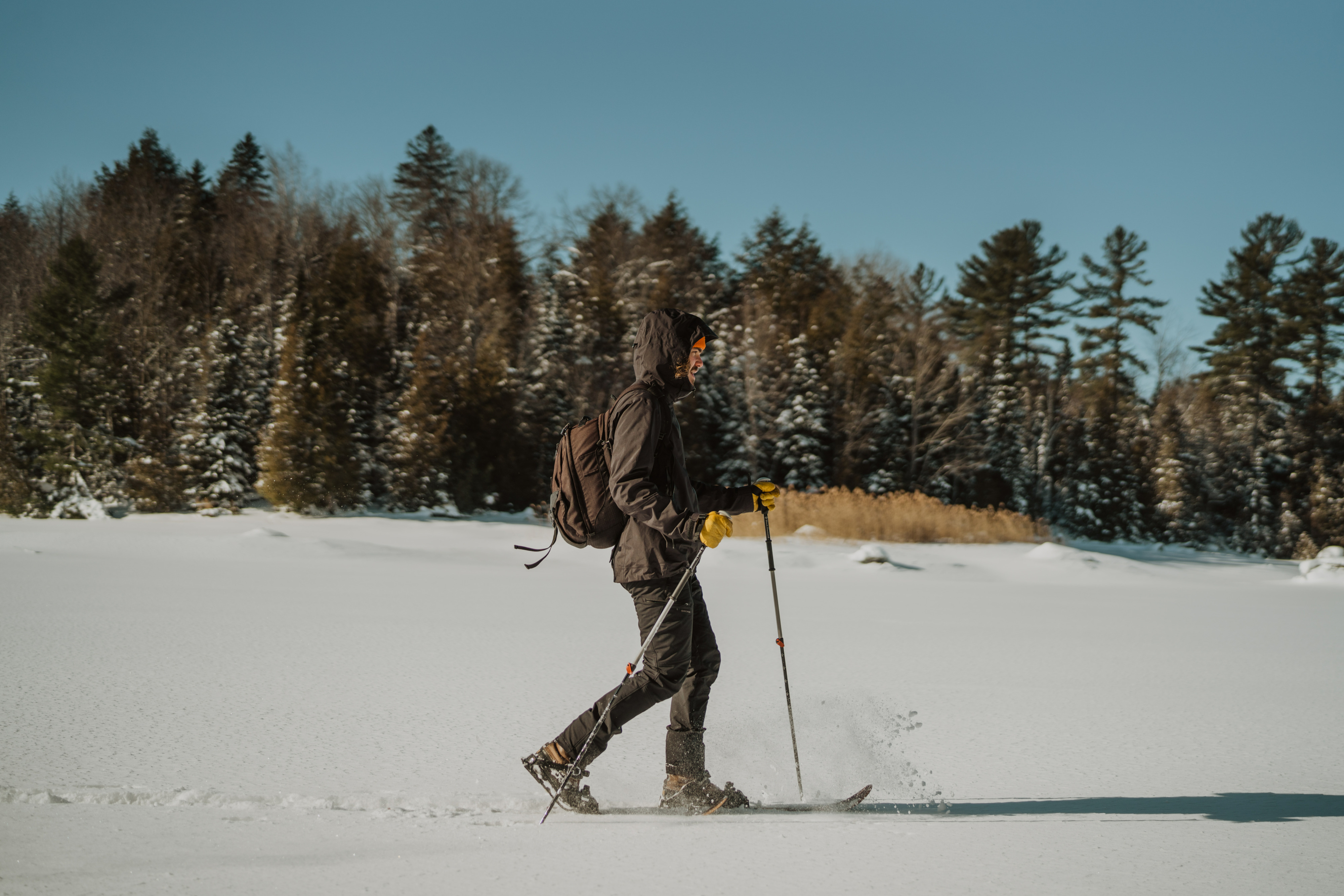 Discover the Ski-hok
Half-ski, half-snowshoe, the ski-hok gives you the opportunity to explore all kinds of snowy areas. Curious? Rent your pair and discover the Baie du Doré. Already initiated? The montagne du Fort will be your playground!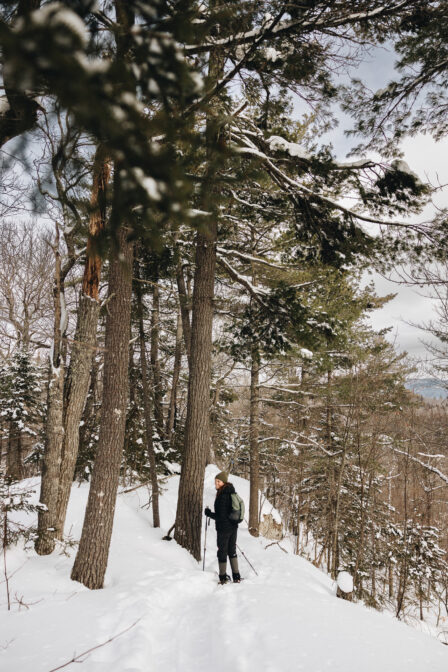 Difficulty Levels
The hiking trails of the Montagne du Fort and Lac Cuillèrier sector are good for beginner, intermediate, and advanced hikers. The shortest trail that leads to a lookout is 1 km long. The longest is 5 kilometers. Now, we're only talking about the hike in- not the return journey. Please plan your outing accordingly, especially during the winter season.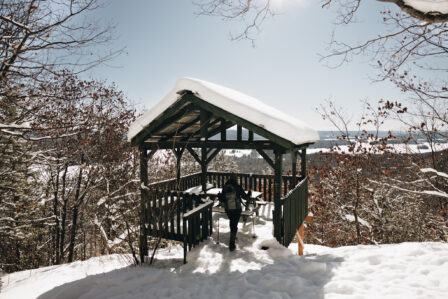 Entry and Season
Free entry;
Located 5 km from the reception lodge;
Dogs on leashes are permitted;
No entry after dark;
Trails are open year-round, but not maintained in the winter;
Well-marked trails;
Parking lots are snow cleared and accessible to cars.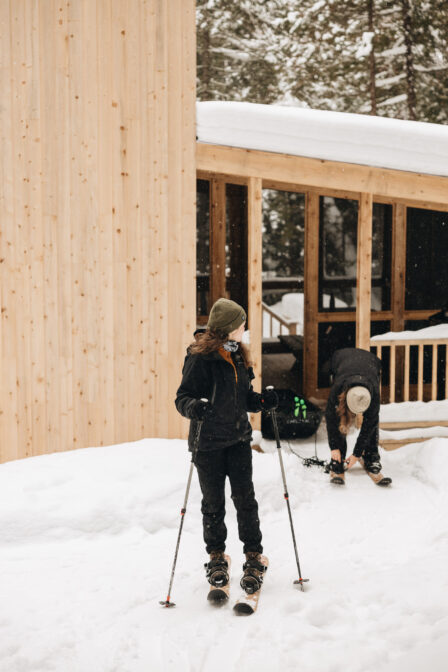 4 Seasons Cabins
Want to extend the pleasure? Rent one of our cabins for a complete outdoor experience without having too get out to much of your comfort zone.
Accueil - Le Bastion

The Prisme

60 meters 1 minute by foot

The Tourterelle

250 meters 4 minutes by foot

The Cardinal

300 meter 4 minutes by foot

The Pic-Flamboyant

300 meter 4 minute by foot

The Pic-Mineur

400 meters 5 minutes by foot

The Grand-Pic

400 meters 5 minutes by foot

1

La Cigogne

0,5 km 15 minutes

2A

Site des Pères

2 km +/- 40 minutes

2C

La Pointe des Pères

2 km +/- 40 minutes

3A

Site des Mauves

1.3 km +/- 30 minutes

3B

La pointe des Mauves

1.5 km +/- 30 minutes

6

La Sainte Paix

1.6 km +/- 30 minutes

12A

Le Cap du soleil couchant

2.5 km +/- 45 minutes

12C

La Pointe aux Harles

2.5 km +/- 45 minutes

12D

La Pointe au Cerisier

2.5 km +/- 45 minutes

20

Les pieds dans le sable

1.6 km +/- 30 minutes

13

Le Soleil du Midi

3.5 km +/- 1:15

23A

L'aurore

3 km +/- 1 hour

24

La Pointe du Couchant

3.3 km +/- 1:10

25

La Retraite

3 km +/- 1 heure

23B

La Pointe à Bill

3.7 km +/- 1:15

27A

La Canopé

4 km +/- 1h20

29

L'île à la Loutre

4 km +/- 1h20

26

La Lagune

4 km +/- 1:20

27B

La Cigale

5 km 1h30

31

Le Paradis

4,5 km +/- 1:30

36

L'Entrée du Chenal

4.9 km +/- 1:40

34

Katimavik

4 km +/- 1:20

40

L'oasis

5 km 1h30

39

Pointe aux bleuets

5.4 km +/- 1:45

42E

L'Équateur

7 km +/- 2 hours

41

La pointe de Granit

6 km +/- 2 hours

42A

La Chanterelle

6 km approximately 2h of canoeing

44B

L'évasion

9 km 3h

44A

L'Enclume

9 km 3 hours

44C

La pointe à la perdrix

9 km +/- 3 heures

45A

Le Parasol

9 km 3h

45B

La pointe aux Dorés

9 km +/- 3 hours

47A

La pointe du Brochet

9.1 km +/- 3 hours

47B

La Terrasse

9.1 km +/- 3 hours

47C

La pointe Ensoleillée

10 km +/- 3:20

52A

La Plage Cachée

11 km +/- 3:40

52C

Le cap siffleur

11 km +/- 3:40

55A

Le Lagon Bleu

12.5 km +/- 4:10

55C

Le site de la Sand Bar

13 km +/- 4:20

56

Le Rocher Fendu

13.5 km +/- 4:30

59

La Pointe aux Bouleaux

15 km +/- 5 hours

60

La Plage d'or

14 km +/- 4:30

63A

Cap à la Tortue

15 km +/- 5 hours

63B

Site de la Paroi Éléphant

15.2 km +/- 5 hours

63C

La Péninsule

15.5 km +/- 5:10

64

L'Île Mira

15 km +/- 5 hours

66A

La Pointe au Pin

13 km +/- 4:20

66D

Le cap à l'aigle

13.5 km +/- 4:30

68

L'Île aux voyageurs

14 km +/- 4:30

70A

La petite Plage

16.4 km +/- 5:30

70B

La grande Plage

16.4 km +/- 5:30

70C

La Pointe aux Chênes

16.2 km +/- 5:30

70G

La Citadelle

14 km +/- 4:30

70K

La Pointe de l'Épervier

16.2 km +/- 5:20

Le camp de base

6.7 km 10 minutes by car

Le site de la plage

6.5 km 10 minutes by car

Picnic Stop 8

2 km 40 minutes

Picnic Stop 9

2 km 40 minutes

Picnic Stop 10

2.2 km around 45 minutes

Picnic Stop 12B

2.5 km around 45 minutes

Picnic Stop 21

1.5 km 30 minutes

Picnic Stop 22

2 km +/- 40 minutes

Picnic Stop 28B

3.8 km around 1h20

Picnic Stop 30B

3.8 km around 1h20

Picnic Stop 33C

4.5 km around 1h20

Picnic Stop 35

4.5 km around 1h20

Picnic Stop 38

5 km around 1h40

Picnic Stop 42B

6.5 km around 2h30

Picnic Stop 48

10.5 km around 3h30

Picnic Stop 49

11 km around 3h40

Picnic Stop 54C

12 km around 4h00

Picnic Stop 55D

13 km around 4h20

Picnic Stop 55E

13.5 km around 4h40

Picnic Stop 57A

14 km around 5h00

Picnic Stop 57B

14 km around 5h00

Picnic Stop 66C

14 km around 5h00

B2

Blocs des Pères

0,7 km +/- 30 minutes of canoeing 2 boulders 11 problems from V1 to V7-8

PS42

Psicobloc du Chenal

7 km 2h30 minutes of canoeing 10 problems from V1 to V7-8

P42

Paroi Écho - Canot

7 km +/- 2h30 of canoeing 32 routes from 5.6 to 5.12

P42

Paroi Écho - Terre-ferme

7 km +/- 2h30 of canoeing 31 routes from 5.7 to 5.12

B44

Blocs du Chenal

7,5 km 2h45 minutes of canoeing 11 problems from V1 to V9

P45

Paroi Amiral

9 km +/- 3h of canoeing 12 routes from 5.5 to 5.11

P63

Paroi Éléphant

15 km +/- 5h of canoeing 28 routes from 5.5 to 5.12

Plage du Rapide-du-Fort

5,5km

Sentier des Merisiers

Débutant

Sentier La Baie-Durand

Intermédiaire

Sentier Katimavik

Intermédiaire

Sentier du Sommet

Intermédiaire

Sentier Desjardins

+/- 4 heures Intermédiaire

Sentier du Chenal

Intermédiaire

Sentier le Cap du sud

Intermédiaire

Sentier de l'île en U

Intermédiaire

Sentier de la Paroi Éléphant

Débutant
Book
Distance
Estimated Time
Category
Area
Beach
Access
Level
Altitude
Length
Elevation
Type